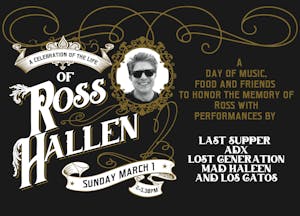 A Celebration of the Life of Ross Hallen
Lost Generation, Last Supper, ADX, Mad Haleen, Los Gatos
A day of music to remember Ross Hallen.
Ross Hallen left us suddenly over the Holiday Season. His impact on the music community of New Haven was far reaching but his impact as a kind, generous and loving person will be what is forever remembered by those of us who had the good fortune to call him our friend.
Join us to celebrate his life with music, fellow friends and family members.
Live performances from Lost Generation, ADX, Last Supper, Mad Haleen and Los Gatos.