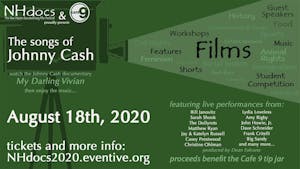 All Star Tribute to the songs of Johnny Cash
$7.50
Tickets At The Door
On NH Docs
Join us for an All Star Cast of artists paying tribute to the songs of Johnny Cash to benefit the Cafe 9 Virtual Jar for Employee relief.
NHdocs & Cafe 9 present...
The songs of Johnny Cash
proceeds benefit the Cafe 9 tip jar
watch the Johnny Cash documentary
My Darling Vivian
then enjoy the music...
featuring live performances from:
Bill Janovitz
Lydia Loveless
Sarah Shook
Amy Rigby
The Dollyrots
John Howie, Jr.
Matthew Ryan
Dave Schneider
Jay & Katelyn Russell
Frank Critelli
Casey Prestwood
Big Sandy
Christine Ohlman
Alex Burnett
Sam Carlson
Richard Hulett
Stefanie Clark Harris
Rich Dart and Creamed Corn
Shellye Valauskas
Brendan Toller
and more...
produced by Dean Falcone
Make sure to also purchase a ticket for My Darling Vivian, am amazing documentary about the relationship between Cash and his first love Vivian, all to benefit the tip jar of New Haven's legendary musician's living room, Cafe 9.
NOTE: we are offering three ticket levels. It's the same ticket, the higher price is a little extra for the Cafe 9 tip jar.