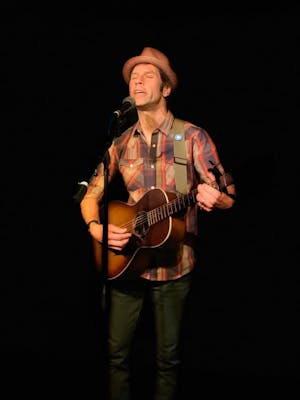 Come check up with three of the areas finest songwriters all on one bill.
American Elm is the nome de guerre of Chris Bousquet, a singer-songwriter from Connecticut. He is the former leader of the internationally acclaimed High Lonesome Plains. He has performed with such luminaries as Roger McGuinn (The Byrds), Mercury Rev, Howe Gelb, Miracle Legion, John Sebastian, Asleep at the Wheel, Rhett Miller, Mark Mulcahy, The Turtles, Nathaniel Rateliff and the Night Sweats, J. Geils, and Susan Cowsill.
The High Lonesome Plains rose to critical acclaim between 1999 and 2006, receiving airplay and garnering critical acclaim on four continents, Americana-UK called their 2002 EP Songs For Young Lovers, "one of the year's best." Rolling Stone writer and Australian DJ Stuart Coupe called it "the best thang to arrive in the mail for ages." The lead track on the EP, "Brass Ring" was featured in the independent film The Box, the television show Witchblade and was included on 36,000 copies of a Magnet Magazine New Music Sampler.
In 2006 The High Lonesome Plains released a full length album entitled The River and the Sea which received glowing praise both domestically and abroad (including Belgium, The Netherlands, UK, Australia and Spain). Independisc.com selected "The River and the Sea" as their record of the year.
From 2004 to 2007 Chris toured the Northeast as part of the "Times Three Tour" with songwriters Frank Critelli and Mr. Ray Neal (Miracle Legion, Vic Chesnutt).
Between 2008 and 2015, American Elm released three studio E.P.s: "Ulmus Americana" ( 2008), "alonesomenoise" (2014), and "Into the Light Within" (2015), and a single "Empty Island Houses" (2014).
2018 was a productive year in which Bousquet released a live E.P. "The Ivory Sessions," and the "A Long Road To Be Free" single, a collaboration with musician and producer Eric Lichter (Kerri Powers, Mercury Rev), recorded at Dirt Floor Studios in Connecticut. 2018 also marked the public debut of "The Year of the Horse: A Folk-Rock Song Cycle" written by Bousquet, and performed live in New Haven by some of the regions most talented, and beloved musicians.
Press quotes:
"There is a deep embedded ache in Bousquet's voice. You can feel it down in the trenches of his soul and through the crack in his voice." – Redline Roots
"On Into The Light Within Bousquet really separates himself as a songwriter from a very crowded field of excellent songwriters taking up camp in his home state. While he's not afraid to crank up the electric guitar to prove a song's point, it's his more introspective moments, such as on "Gloria" that he really knocks it out of the park." – Chip McCabe, Lonesome Noise
"Memorable melodies and intoxicating hooks that are instantly appealing . . . well worth tracking down." - Del Day, Americana-UK
"Songs that grab at the throat, heart, and soul." - Rootstime Belgium
"Bousquet's melodies pour out with folksy ease, his memorable choruses invite singing along, and his lyrics are smart without being show-offy" - Brian LaRue, The New Haven Advocate
"Now those are the kinds of songs that matter!" - How Gelb, Giant Sand
Brian Larney is an eclectic, non-stop music making machine. The Connecticut native splits his time performing as a solo acoustic act and as the front-man of his band Brian Larney and The Town Hall. He's an alternative folk-rock singer-songwriter with an honest and thoughtful style that has been described as
"quirky, earnest, and vulnerable." It's as rooted in the pop music writers of the mid-1960's as the contemporary artists that he is often compared to, e.g. Jason Isbell and The Decemberists.
Larney grew up in the Northeast obsessed with well-crafted songs and the art of
harmonizing. "I would get to school at 6:00 AM and sneak into the choir room just to pick out
songs and work on harmonies," he says. As a songwriter, his early efforts were he says,
"overly complicated 7-minute opuses." Through his varied tastes as a listener—which span
pop to bluegrass—and work as a gigging musician within a diverse array of bands, including
the genres of power-pop, post-punk, acoustic and Americana, he gradually essentialized his
songwriting style.
Cutting edge AI company and music promotion team, Zenabi, probably describe the Larney
sound best. "His songs are organic spoonfuls of classic pop and folk, naturally sweet, non-
GMO, without the sugar crash; his style hearkens back to the days of Simon and Garfunkel,
the Beatles, and maybe a bit of Partridge Family."
Hist latest album, White, is an emotional reflection of the struggle and joy of relationships
and life during these tense political times. It was produced by Larney himself and mixed by
Grammy nominated John Shyloski. It was mastered by Blake La Grange of Mercury Mastering.
E.J. Nash
EJ Nash (aka Eric Sanders) makes genre blended, guitar rooted songs themed in flawed faith and wrong turns. As a guitarist in two "on the verge" female fronted bands in the 90's (The Crossing)/00's (The Roxies), he shared stages with multiple national acts and recorded with Grammy winning production teams. In more recent years, he participated in songwriting workshops with Dar Williams, Jimmy Dale Gilmore, and Beth Nielsen Chapman, and cleared an audition for artist developer Judy Stakee (Sheryl Crow) where he cowrote and coproduced the single "Then We Got Older" in Nashville. He is currently in the process of deepening musical collaborations and finding a new and more authentic voice as a solo artist.