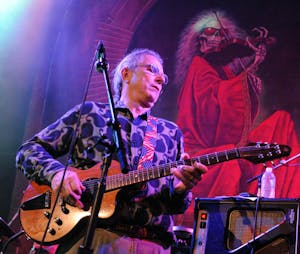 Guitarist, Grateful Dead historian, author, host of the syndicated Grateful Dead Hour performs an intimate showcase
David Gans is an American musician, songwriter, and music journalist. He is a guitarist, and is known for incisive, literate songwriting. He is also noted for his music loop work, often creating spontaneous compositions in performance. He is the co-author of the book Playing in the Band: An Oral and Visual Portrait of the Grateful Dead, and the host of the weekly syndicated radio show The Grateful Dead Hour. He currently co-hosts a radio show with Gary Lambert on Sirius XM's The Grateful Dead Channel called Tales from the Golden Road, a call-in show about the Grateful Dead.
My name is Rob Glassman, a New Haven, CT native, and have been performing in Connecticut, and beyond, for over 20 years.
Currently I perform in 3 bands, two of which I co-front on guitar with RGB and Music Never Stopped.The other band I am percussionist, vocalist, and co-founder of Jen Durkin's Steal Your Funk. We perform in clubs all over New England
Also, when available, I perform with other bands, either as a percussionist, vocalist, and/or rhythm guitarist.
I feel honored and blessed to have shared the stage, and played, with the likes of the late Dr Charles Neville (Neville Brothers) Leo Nocentelli (The Meters), Doug Wimbish (Living Colour), Tim Palmieri, and members of Kung Fu, Sikiru Adepoju, Billy Iuso, and the amazing Jen Durkin of 2006's "Rhythm Devils," featuring the Grateful Dead's Bill Kreutzmann and Mickey Hart,Steve Kimock, Mike Gordon (Phish), and Sikiru Adepoju.