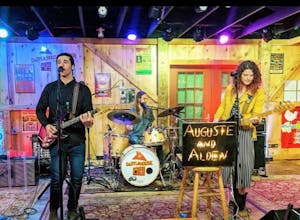 Presented by Cygnus Radio
Auguste and Alden
Wallace & Sasso
The Sunday Buzz Matinee from Cygnus Radio presents a pair of duos.
Auguste and Alden are a New England based sibling duo, accompanied by drums to make them a strong unique power trio. Growing up as homeschooled kids on the road playing music all over the country, Auguste and Alden have written a catalog of over 200 songs. The unique sound of their original songwriting as well as their signature blood harmonies have led them to share their music at incredible events and venues such as Infinity Hall, Daryl's House, NAMM, Rockwood Music Hall, Nectars, Gathering Of The Vibes, The Ridgefield Playhouse, Soulfest, Arlenes Grocery, Bowery Electric and many more. Auguste and Alden consist of Auguste on lead vocal and bass, Alden on lead vocal and guitar, and Tyler Levander on drums. This alternative/rock/pop power trio is known for lighting up the room with their passion filled songs, feel, and love for what they do.
Kat Wallace and David Sasso met playing hard and fast bluegrass with New Haven string band, Five in the Chamber. Their shared background in classical music and affinity for all things trad brought them together to form an intimate and virtuosic duo. Both singers and multi-instrumentalists, Wallace and Sasso orbit around traditional folk, original songwriting, and the ever-evolving Americana movement. Their effortless vocal lines and innovative harmonization command the stage while allowing space for each song to tell it's story.