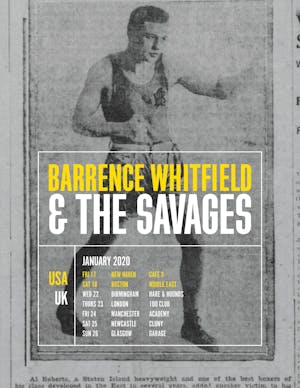 Barrence Whitfield & The Savages
Muck and the Mires
$15.00
Tickets At The Door
Barrence Whitfield & The Savages with Muck And The Mires appearing at Cafe Nine in New Haven
Barrence Whitfield is a full-throttle soul screamer in the spirit of Little Richard, Don Covay, and Solomon Burke. He has been described as the owner of one incredible pair of lungs, with limitless energy and unmatched enthusiasm for his music and his audience.
Barrence is a rarity in this business--one of a few black, rock n roll singer/entertainers who, Spin Magazine says, maintains a frenzied performance. Whitfield is a performer so consumed with satisfying his audiences that he has been called 'crazed, frenetic and completely unhinged.' Barrence, the singer made up of equal parts Arthur Alexander, Nolan Porter and James Carr, this mofo burns.
BW doesn't want you to come to a show and stand around. He'll do flips if he has to.
"There was one show in England where I opened for The Damned, and I started throwing cans of beer at the audience. The club owners were telling me, 'You can't do that!' I threw them out there for people to drink and have a good time. But I went too far and almost started a riot.'
Barrence Whitfield & the Savages shot out of Boston in the mid-'80s with the force of a cannonball. Through their sweaty dance party shows and love of primal soul, they were to R&B what the Cramps were to rockabilly--a gateway musical drug for nascent underground roots mavens (including a wide-eyed, dewy-eared future Bloodshot co-founder Rob Miller). Along with original Savage Peter Greenberg (The Lyres, DMZ) and Phil Lenker, they released several records on Rounder, became a favorite of BBC DJ Andy Kershaw, toured with the likes of Bo Diddley, Tina Turner, and George Thorogood, and won seven Boston Music Awards. They reunited in 2011 with new Savages Andy Jody on drums, and Tom Quartulli on sax.
Perhaps the world is ready for them this time around.
MUCK AND THE MIRES, Boston's International ambassadors of garage rock 'n' roll, have been described as a blend of the 1964 Beatles and the 1977 Ramones. Their songs are reminiscent of the 1960's British Invasion, all two minutes long and ALL POTENTIAL HITS, while their live show is a high energy blast of fast-paced, post-punk gritty garage rock and roll. They have built a worldwide following through relentless touring, radio and satellite airplay and a string of recordings, produced by Kim Fowley & Jim Diamond, considered by many to be cult classics.
Formed in 2001, MUCK AND THE MIRES are pehaps the first group to ever have a "Best Of" collection released before ever playing a note together; "All Mucked Up -The Best of Muck and the Mires". In reality, these raw recordings were home demos created by Muck (Evan Shore formerly of The Queers and The Voodoo Dolls). Originally passed off as the lost sessions of an unknown sixties garage band, In 2001, the demos were issued on CD in Canada on AMP RECORDS and subsequently on vinyl by SOUNDFLAT RECORDS of Germany. Following the immediate success of the album, Muck assembled the real-life Muck and the Mires, who's current lineup still features drummer JESSIE BEST, long-time bassist JOHN QUINCY MIRE, and the recent return of founding lead guitarist Pedro Mire.
In 2004, the band gained worldwide recognition when they were featured on MTV as the winners of Little Steven Van Zandt's (E-Street band/Underground Garage) national battle of the garage bands contest. The group appeared that summer at Little Steven's festival in NY alongside Bo Diddley, The Stooges and The NY Dolls. Later that same year, they toured Europe for several weeks and quickly built a large following both home and abroad thanks to strong airplay and worldwide live appearances.
In 2006, DIONYSUS RECORDS (Burbank, California) and SOUNDFLAT RECORDS jointly released the album "1-2-3-4" which quickly climbed up college and satellite radio charts. The song "Caught In A Lie" was subsequently featured in the History Channel's film "Vietnam in HD" and the record received a four-star rating from England's prestigious Uncut Magazine, prompting their first UK tour. In Liverpool, they headlined the famous Cavern Club and caught the attention of ex-Beatles manager Allan Williams. It should be noted that, despite their offer to employee him, "The man who gave away the Beatles" also turned down Muck and the Mires. Following a slew of dates across the US, the group embarked on a seven-country European Tour which included arena-sized dates with surviving members of The MC5.
Rock legend KIM FOWLEY (the Runaways/Kiss) stepped in to produce the group's 2009 release "Hypnotic". Critically acclaimed, this was their first full-length effort for London's Dirty Water Records who had issued an EP (Doreen) and a single ("I'm Down With That") the year prior. While on tour in England, the group was surprised to learn that their single had introduced the popular American phrase "I'm Down With That" to Londoners. They spent the year promoting Hypnotic with high-profile shows such as their appearance with the NY Dolls at South By Southwest (SXSW) in Austin, TX and at the Bukta fest in Norway with Ray Davies (The Kinks), Roky Erickson and Kaiser Chiefs.
MUCK AND THE MIRES headed to Detroit to record the follow up album with acclaimed White Stripes producer JIM DIAMOND. 2011's "A Cellarful of Muck" proved to be the group's biggest selling album to date, scoring record of the month on Spanish National Radio. in 2012, the group returned to Europe, while back home, they once again proved their wide appeal playing the Life Is Good Festival with contemporary artists including Dave Mathews.
MUCK AND THE MIRES recently returned to the studio with both Kim Fowley and Jim Diamond, and also served as Fowley's back up band when he perfromed his outrageous live show in Hollywood.2013/2014 European tour dates are being booked now in suppost of this latest disc DIAL M FOR MUCK!