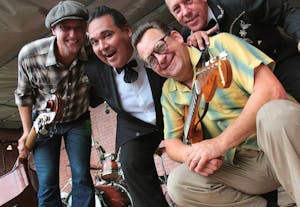 Big Sandy & His Fly-Rite Boys
Soapbox Saints
$15.00
Tickets At The Door
Big Sandy & His Fly-Rite Boys with Soapbox Saints appearing at Cafe Nine in New Haven
Over the last three decades, Big Sandy and his Fly-Rite Boys have kept up a constant cycle of traveling back and forth across the lower 48, then hopping across the pond to Europe and beyond. They bring with them a brand of American music that has earned them an induction into the Rockabilly Hall of Fame, several national television appearances, guest spots on The Grand Ole Opry, and a slew of adoring fans.
"I truly love being out on the road, and I feel blessed to have the opportunity to sing my songs all over the world," said Sandy. "But when I'm away from the U.S. for too long, it's like I need a recharge... like I need a solid dose of everything Americana. Give me a Chuck Berry song while rolling down the interstate, or a truck stop conversation with a waitress who once danced with Lefty Frizzell, and I'm good for another three thousand miles".
Although the Soapbox Saints are a newer Rock N' Roll trio these guys might look familiar! Billy, Jack and Russ have been burning a trail this year with their new sounds.
While co-writing/performing with another group, Billy Moretti started moonlighting, writing material in vain of his first love 1950's Rock N'Roll. Around the same time two very active musicians, Jack Hanlon and Russ Dawley were looking to start a new original project. The stars aligned and the band came together in no time flat.
They quickly found their sound and are working on their first release. In addition to a full set of original songs they perform a mix of covers ranging from 1950-1980's Rock N' Roll, 70s Punk & Glam, a little Blues and of course Rockabilly.