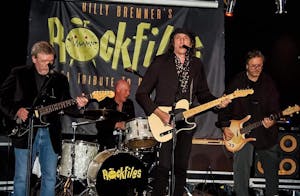 Billy Bremner's Rockfiles
$20.00 - $25.00
Currently being rescheduled.
On Brown Paper Tickets
Scottish guitar legend from Rockpile and The Pretenders.
Billy Bremner first became known playing with The Luvvers, who served as Lulu's backing band and also recorded a single ("The House On The Hill"/"Most Unlovely") for Parlophone in 1966. For awhile Billy became a guitarist in Little Richard's band, Brenda Lee, and The Rutles. After joining Neil Innes in the band Fatso, he recorded some solo singles under the pseudonym 'Bill Murray' (so as not to get people confused with the famous Scottish footballer of the time). We can hear his guitar mastery in countless hit albums, from Paul McCarthy, Ringo Starr, George Harrison, Phil Everly, Thin Lizzy, Billy Fury, Mike Berry, Jackie Lynton, to Marty Wilde. Later he joined Rockpile, who only released one album under their own name, but also served as the band for most of Nick Lowe's and Dave Edmunds' albums in the 1970s. In addition to his guitar playing, Bremner occasionally sang lead, as he did on "Heart" and "You Ain't Nothing But Fine" on the 1980 Rockpile album Seconds of Pleasure. He also wrote Edmunds' hit "Trouble Boys" and Thin Lizzy. Bremner then released two solo singles on Stiff Records – 'Loud Music In Cars'/'The Price Is Right' (BUY 125) and 'Laughter Turns To Tears'/'Tired And Emotional' (BUY 143) – before becoming a full time member of The Pretenders, where he played the lead guitar on their 1982 hit 'Back on the Chain Gang'/ "My City Was Gone" and later provided lead guitar for their 1990 album Packed!
Bremner released his first solo album, Bash!, in 1984, containing songs co-written with The Records' Will Birch, and covers of songs by Elvis Costello, and Chris Difford and Glenn Tilbrook of Squeeze. Bash! featured a tight rhythm section of Dave Kerr-Clemenson from Fast Buck on bass and Terry Williams from Rockpile on drums on some songs; Bremner played all the guitar parts and sang the harmonies with Kerr-Clemenson.
After stints in Los Angeles, California (where he played in the bands of Pat McLaughlin and Rosie Flores) and Nashville, Tennessee Bremner moved to Sweden in the 1990s where he met The Refreshments, producing and playing on their album It's Gotta Be Both Rock 'n' Roll. A second solo album, A Good Week's Work, followed in 1999 and a third No Ifs, Buts, Maybes in 2006, both recorded in Sweden. Billy has been heavily in demand as a session player since leaving the Refreshments but in 2011 formed supergroup, the Trouble Boys in Sweden with legendary rocker, Sean Tyla. They released an album, 'Bad Trouble' in September 2011.
We are reliably informed, that it's the closest you'll get to Rockpile and that they sound truly amazing live and that you will get all the hits.