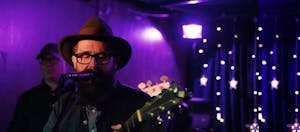 Cygnus Radio Presents: The Sunday Buzz Matinee
Brian Larney Band
Greg Jacquin, Bobby Dyckman (Wolf Harbor)
The Sunday Buzz Matinee from Cygnus Radio
Haunted by Hooks and good old fashioned song-craft, Brian Larney is an eclectic, non-stop music-making machine. The Connecticut native and New England Music Awards nominee splits his time performing as a solo acoustic act and as the front-man of his band Brian Larney and The Town Hall. He's an alternative folk-rock singer-songwriter with an honest and thoughtful style that has been described as "quirky, earnest, and vulnerable." Larney's music is as influenced by pop songs of the mid-1960s as it is by the contemporary artists he's often compared to, such as Jason Isbell and The Decemberists.
Larney grew up in the Northeast, obsessed with well-crafted songs and the art of vocal harmony. "We didn't have a piano at home, so I would get to school at 6:00 AM and sneak into the choir room just to pick out songs and work on harmonies," he says. As a songwriter, Larney's early efforts were "overly-complicated 7-minute opuses." Through his varied tastes as a listener (which span pop to bluegrass) and tours as a gigging musician with power pop, post-punk, and Americana groups, Brian gradually essentialized his songwriting style.
Cutting edge AI company and music promotion team, Zenabi, probably describe the Larney sound best: "His songs are organic spoonfuls of classic pop and folk, naturally sweet, non-GMO, without the sugar crash; his style hearkens back to the days of Simon and Garfunkel, the Beatles, and maybe a bit of Partridge Family."
Wolf Harbor : Shovin' swing, punk, americana, and folk all together under one roof.
Greg Jacquin traces his roots and his inspiration to the Hudson Valley. Born in Sleepy Hollow in 1970 to a young single Cuban immigrant who worked as a waitress at Howard Johnson's, Greg spent much of his early life with his Cuban grandparents and grew up on The Beatles and Cat Stevens. He picked up his stepdad's guitar as soon as he could hold it, and began playing in bands in high school, recording several albums with Know Idea in the early 90s. Years spent having a family and working took him away from music, but after retiring from the police department and facing personal obstacles, songwriting led him back. Greg found new energy for music along the Hudson in the company of the many creative artists who live there. Returning to music in the past decade with a variety of exceptional bands and while parenting his youngest child, Greg has reemerged as a musician releasing an EP in November 2018 and full-length album "Clocks Slow Down" Feb 15, 2019.