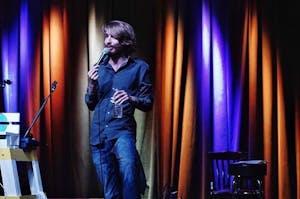 Cafe Nine Comedy Night: NYC's Mike Lemme Live in New Haven
Robbie "The Fire" Bernstein, Carter Morgan
$8.00 - $10.00
Tickets At The Door
On Eventbrite
Great Comedy and Cheap Drinks all on a Wednesday Night in New Haven!
NYC comedian Mike Lemme returns to New Haven with new jokes and his hilarious friends. Featuring Robbie "The Fire" Bernstein, Carter Morgan and more. Join us!
Doors 8PM, Show 8:30PM
---
"Proving Himself To Be a Comedian of Significant Talent" - Theatre Is Easy
Mike Lemme is a Brooklyn based comedian and writer. His writing has been published in The New York Times and received critical acclaim from Broadway World. A former intern for Conan O'Brien and Jimmy Fallon, Mike has previously warmed-up studio audiences for 'Who Wants To Be A Millionaire'. In 2016, Lemme self-funded a 15 night residency at the UNDER St. Marks Theater in New York's East Village. He turned this run into his first stand-up film, Help Wanted. Known for his alternative, off the path style of producing shows, Lemme is probably the only comedian you know who has performed inside tiny conference rooms in Austin, Texas, London and Rome. In 2019, Lemme performed with two other comedians he met in Paris for 25 nights to sold out crowds at the Edinburgh Fringe Festival. Lemme is also the founder of the St. Marks Comedy Festival which takes place every November at the UNDER St. Marks Theater.
"It is wonderful when a show can be funny, contemplative and raw all at the same time, and Lemme has captured all of the above perfectly." -BroadwayWorld
"When a comedian can not only make you laugh, but touch you deeply with his honesty and pain, you know you're watching someone very special. Highest recommendation to Mike Lemme." - Evan Ginzburg, Associate Producer of Darren Aronofsky's The Wrestler