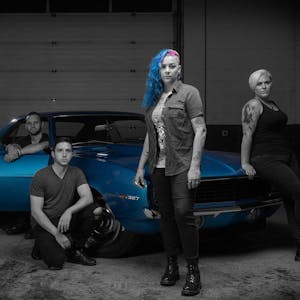 A triple bill of slammin' indie/punk rock
After three long years, Chaser Eight has been reborn.
This, after dying an unexpected death in 2016.
The Connecticut-based alternative rock band's demise was a shock to founding members *AUDRA* (vocals/guitar), and Pat Walsh (guitar/vocals). They'd just been voted New England's Best Alt-Rock band for the second consecutive year in The Deli magazine's year-end poll, and had worked their way up to opening for the likes of Panic! at the Disco, The Dollyrots, and Local H.
It was at this time – after 6 EPs, 5 standalone singles, and an eponymous full length album – the band found themselves without a rhythm section.
Over the years Chaser Eight had experienced their fair share of turnover when it came to musicians, but this particular set of exits, which occurred over the course of multiple years, turned out to be the straw that broke the camel's back.
For *AUDRA* and Pat, Chaser Eight, as they knew it, was dead.
It was time to go back to the drawing board and search for new members.
The search wouldn't be an easy one, as they not only needed to find great musicians, they needed to find people who could mesh with two lifelong friends, as *AUDRA* notes that when it comes to her and Pat's friendship, "We went to the same day care."
Even being friends since day one, *AUDRA* and Pat's musical influences differ quite a bit. *AUDRA*'s mother raised her on a steady diet of The Allman Brother's Band, The Beatles, and Pink Floyd, while Pat was heavily influenced by his older brothers' love of '90s rock – including Nirvana, Pearl Jam, and Beck – eventually getting into indie rock as a teenager.
The duo began working on music together in grade school, recording music on 4-track tape recorders and MiniDiscs. This evolved into their first band, Audra and Blackwater, with Chaser Eight being founded in 2012.
Their search for new members culminated in 2018 with the additions of Brennan DiLernia (bass), Eliav Nachmani (drums), and Jess Wolfer (backing vocals). The trio weren't simply brought on to replace the previous members, however, they were to play a pivotal role in the musical reinvention of the band.
Walsh notes that in addition to being great musicians, DiLernia, Nachmani, and Wolfer were bursting at the seams with creative ideas.
According to Walsh, this was key for creating the new Chaser Eight. "That's the thing I always looked for, even more than chops. I specifically wanted to avoid players that had really good technique – the kind of people that wow you at an audition – but didn't have good feel, and didn't have creative impulses."
The result is a new sound that's still alternative rock, but markedly different from previous Chaser Eight efforts, with the band's new roster being the catalyst for the change.
"We didn't have an idea of making a more rocking, streamlined sound, and then added members who would do that," Walsh explains, "it came naturally after we added quality people."
Chaser Eight's new sound can be heard on the band's new album, Tell Me Lies, released on October 18, 2019.
Trashing Violet plays adrenaline-laced pop-punk, 90s grunge, ska and loud rock n' roll originals and covers. The band -- Marisa Mini (vocals, guitar); Anna V (lead guitar); Doug E (bass, vocals) and Nick D (drums, vocals) -- is loved for its sharp, edgy (and super-dirty) lyrics; high-energy playing style and ability to emotionally connect with each and every audience member. Pop-rock influences include The Interrupters, Hole, L7, Veruca Salt, AC/DC and The Donnas.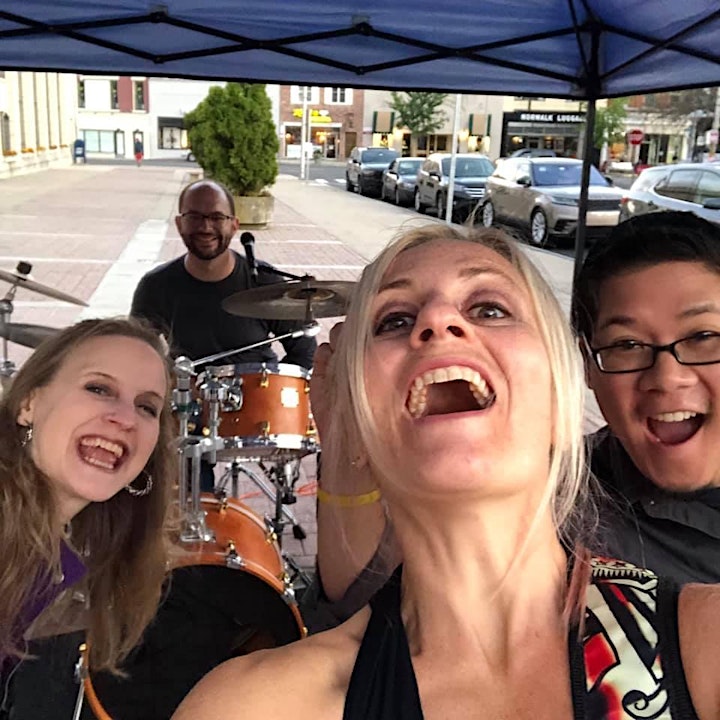 This New Haven-based quintet joined forces in 2018 with a common goal: to create compelling, original rock music with no ulterior motives. The band is led by the sultry, fiery vocals of Blake Avenue, a professional dancer who has performed across the U.S. at festivals such as Paradiso at the Gorge in Washington, and Das Energi in Salt Lake City.
The musicians of Bad Bad Stereo bring forth a wealth of experience, having opened for bands such as Yellowcard, Sum 41, and Trapt. Together they share a fresh energy with the collective desire to break new ground. Guitarists Geoff Peters and Jeff Oddo merge two contrasting styles that result in a potent rock blend. Anthony Del Cervo keeps the groove going with his funky, intricate bass lines. Drummer Sachin Ramabhadran's syncopated, precise style provides a tasteful backbeat for the band's ethos of being creative for creativity's sake.