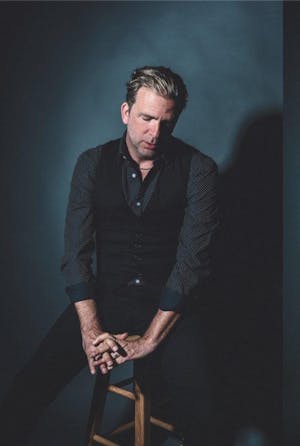 Chris Trapper & Canyon appearing at Cafe Nine in New Haven
"Since the split of the Push Stars, one of Boston's brightest pop bands of the past two decades, singer-songwriter Chris Trapper has developed into a prolific, captivating artist with a unique musical voice. His 10th solo record accentuates his unerring melodic instincts and thoughtful narrative skill. As the title suggests, the love songs here are postcards from the road, filled with yearning and devotion. The lyrics' wounded soulfulness is grounded by the slightly weathered edge Trapper's voice has acquired with age. The best songs ("Symphonies of Dirt & Dust") are buoyed by his telling eye for details, wit, and subtly defined hooks." Ken Capobianco - The Boston Globe
CHRIS TRAPPER is a storyteller. With his soulful, honeyed tenor, sly humor and an uncanny knack for melody, Chris has traveled the world over, performing to a dedicated and ever growing fan base with nothing but his guitar and his songs. Raised on Prine and Kristofferson, Trapper's first foray in the music industry was as frontman of the critically acclaimed alt-rock band The Push Stars (Capitol Records). Over the past decade, Chris has become a modern day acoustic troubadour, performing over 150 dates a year as a headliner and sharing the stage with the likes of Colin Hay, Martin Sexton and even John Prine himself.
As a singer/songwriter, Chris is most known for his original song THIS TIME, the #1 selling song on the Grammy nominated soundtrack for AUGUST RUSH (Robin Williams, Jonathan Rhys Meyers /Warner Bros Pictures). His music can best be described as lyrically driven roots-pop with a knack for telling everyday stories.
The New York Times has called his work "classic pop perfection."
The new CD SYMPHONIES OF DIRT & DUST is a collection of 12 songs written and performed by Chris Trapper and Produced by Jason Meeker at Silver Top Studios, Boston, MA. Guest musicians include Dan McLoughlin of The Push Stars on bass and NYC singer/songwriter Amy Fairchild on harmonies.
"I have to mention Jason, the producer of Symphonies of Dirt & Dust. He is my old friend, who not only worked the clubs in rock bands but also worked for Geffen records in their heyday, so he has a good sense of the music business as a whole. What I love about Jason is that he is absolutely obsessed with his craft and getting songs right.
Every record tells a story. For me, much more than gimmicks, my albums are like diary entries, or truthful accounts of where I'm at in life. I suppose that might be the same for most songwriters, but in the spectrum of the music business, it's still an animal that's nearly extinct." Chris Trapper
Chris has toured North America and the UK with multi platinum songwriter COLIN HAY.
In the Spring of 2013 Chris performed a duet with his songwriting idol JOHN PRINE at the Portsmouth Songwriter Festival.
"It's an incredibly rare musician, particularly in the world of popular music, who is able to forge a career based on quiet dignity and steadfast integrity." The Buffalo News
A prolific songwriter, Chris has garnered several high profile film placements including There's Something About Mary (Ben Stiller, Cameron Diaz), The Devil Wears Prada (Meryl Streep), Say It Isn't So (Heather Graham) Gun Shy (Sandra Bullock, Liam Neeson) and most recently, Some Kind of Beautiful *Pierce Brosnan, Salma Hayek) as well as significant television placements including All My Children, Women's Murder Club, Malcolm In The Middle, a coveted placement in George Clooney's final episode of ER, the theme song for WB Networks dramedy Pepper Dennis and a cameo on-screen appearance with the show's star, Rebecca Romjin.
Chris has written 7 songs with/for Canadian band GREAT BIG SEA, including their #1 single "Sea Of No Cares" from the certified-platinum Sea Of No Cares CD. Great Big Sea covered Trapper's song "Everything Shines" and their version served as the debut single off their certified-gold Road Rage CD album. Chris' songwriting collaborations with Great Big Sea earned him two prestigious SOCAN awards. Rob Thomas of Matchbox Twenty and Antigone Rising have performed other notable versions of Trapper's songs.
Trapper's live show is a favorite among fans of alt–acoustic music. His on–stage persona is warm and inclusive, his organic understanding of classic pop melody, infectious. Audience members seem to particularly appreciate the lighthearted moments with the ukulele.
Currently hailing from Westport, Connecticut, Canyon. has been making a name for herself as a vocal powerhouse and wordsmith. Known by those that have seen her perform to be a captivating singer/songwriter with haunting and heart-wrenchingly honest lyrics, her intense passion will cut deep enough to hit a nerve. Performing with an acoustic guitar, her catchy vocal melodies will immediately grab your attention while the intimate stories she tells will keep your ears guessing.
Winner of the 2015 CT Music Awards; Song of the Year for her song "Slow," Canyon. has been touring throughout the Northeast making lasting impressions and connections wherever she goes. After 17 years and several failed projects, her recently released full-length album Half stands as a testament to her struggle and enduring persistence to prove herself as a songwriter.
"Half is the type of album that even after a myriad of listens doesn't lose a single ounce of excitement or energy. From the first sensual notes of album opener, "One Way Road" to the very last whispers of album closer, "Inch", Canyon. is a downright combustible blend of seductive mysticism and spiritual awareness. She weaves through each tune like someone with way more experiences than her relatively young age has let on, that sort of 'old soul' ethos that the best folk singers possess. She is a troubadour secure in her own skin and her own craft and she picks and croons her way through eleven tracks of elegant, pop-infused, indie folk.
Canyon. has truly constructed the full package on this album – gorgeous poetry and tremendous songwriting, delivered with aplomb, and given a treatment of lush production. But make no mistake, whether delivered with the full package of bells and whistles or standing on stage to face the crowd alone, Canyon., her voice and her words and her ability to construct a truly memorable song are the flower-filled centerpiece at this dinner table. She's a songwriter with a potent arsenal of music and the hope here is that we continue to hear more of it in the future." - Chip McCabe, Lonesome Noise
Raised by her single mother in Northern California, Canyon.'s earliest musical influences can be traced back to the cassettes her mother would play on repeat during long road trips. "I get my independent and adventurous spirit from my mom. Whenever we would hit the road together she used to make a bed for me in the back of the car. I remember just laying for hours watching the sky change out the back window daydreaming to Cat Stevens and Tracy Chapman the most... but there was Neil Young, Sarah McLaughlin and the Indigo Girls as well..."
On September 25, 2002, Canyon. celebrated her 18th birthday by borrowing her mother's acoustic guitar, boarding a plane and officially moving to New York City. It marked the beginning of her journey into music. Several years and several guitars later, her voice has developed into one of strength, wisdom and maturity with songs inspired by the life experiences of a young adult in a big city.
Canyon.'s emergence onto the music scene began with The Break Contest 2010 when she, along with friend and former partner Andrew Maturana, were the only acoustic act to be selected to perform at The Bamboozle Festival 2010, which boasted an estimated attendance of 20,000. Since January 2011, Canyon. has been performing in festivals and venues throughout the Northeast living by her model, "I will play anywhere and everywhere that will let me..."
With her folk roots as undeniable and organic as her namesake- which comes from lyrics in the song "Thrasher" by Neil Young. Canyon. is poised to make her mark on the Folk genre by re-defining what modern Folk means and finally letting her voice be heard.