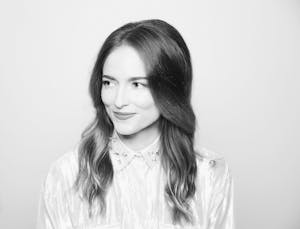 Nashville Americana / Folk sensation Dawn Landes stops by for an intimate show at Cafe Nine.
"Studios showed her how hard the business is. She continued to write and perform, but she also learned how to engineer and produce… And then, as the female singer/songwriter Bible dictates, she went to Paris. Where, according to that same Bible, she got her first contract and made her first CD."
Kentucky born Dawn Landes first traveled to Paris to perform in the Les Femmes s'en Mêlent festival as a 22 year old songwriter. Her hand-made cds caught the attention of indie label Ocean Music who released her first album "Dawns Music" in France in 2005. She toured the country for the next few years, not speaking a word of French. Picking up bits of slang from the musicians she met on the road, Landes started to learn the songs of French greats Serge Gainsbourg, Francoise Hardy and Georges Brassens. When Paris-based label Fargo released her second album "Fireproof" in 2008, it was praised by the European press and she appeared on many French radio programs, touring the French countryside with artists such as Feist and Andrew Bird. Shortly after, Landes moved from New York to Paris into a little flat near Parc Georges Brassens. One morning she found herself at an antique book fair in the park and discovered a picture book with a 45" vinyl record titled "George Brassens Chante Pour Les Enfants" (George Brassens Sings for Children). The songbook inspired her to write the first song on this album "Mal Habillée" (Badly Dressed) in nursery rhyme style: part sweet, part sinister.
"Writing in a new language is a beautiful contrast," says Landes. "You have the wonder and vocabulary of a child but the desires of an adult." Working in collaboration with French songwriters and friends, Landes delivers a collection of eight French songs in the musical style of Yé-Yé, with guest appearances by singers Matthew Caws (Nada Surf), Tunde Adebimpe (TV on the Radio) and more. Accompanying the album is a large format picture book with translations and illustrations. It is now available as a digital e-book and also in old-fashioned print form.
Erika is a veteran of several NYC bands (The Erics, The Sprinkle Genies), and Steve is a founding member of and writer for Hem, a band which had a founding influence on the modern folk-Americana genre, and has performed all over the world.
"The elegantly understated debut from this Brooklyn band does what great, grown-up indie rock at its best has always done: It maps out states of personal, emotional and historical in-betweenness with careful, intelligent grace… Songs […] take their time building from muted beauty to closely held grandeur."
—ROLLING STONE
"Once they emerge from the trancelike perfection of [Somewhere You Found My Name's] first two tracks, they and their band rock out… Don't wait for them to come to your town, just buy the darn record."
—NO DEPRESSION
"Little Silver has a familiar, delicious vibe… Listen, for example, to a cut called "Anytown" and hear echoes of the New Pornographers. The brew of ethereal harmonies, majestic arrangements and gentle melodies proves there was more precious metal in those hills… In "You Slept Through Summer," an evocative sonic journey through the passing of time, the words themselves are so rich they feel like instruments… The album is built on delicate harmony, and Simonian's voice, in particular, is lovely. In fact, it might be its similarity to that of Neko Case […] that beckons that comparison. It's good company; Little Silver has shown it belongs there."
—ASSOCIATED PRESS