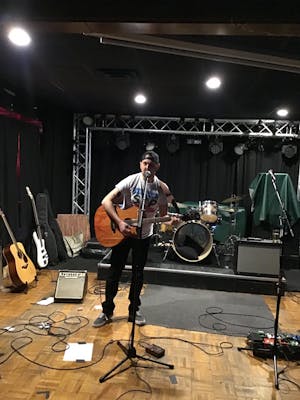 Acoustic punk mayhem.
Devouring Light was founded by Kyle McGrath two years ago and the members are Kyle McGrath lead guitarist and vocals , devouring light is about to release their debut album called a darkest memory all acoustic ( no drums on the album). we became a band because we love music and want to create art that can live on in the music industry for years, we strive to be all that we can be, our drummer is name Tom Brewer and we are from the Southbury/ Woodbury area. our influences are Slipknot, Lamb of God, Green Day, Stone Temple pilots and many more. Ive been writing music for years mostly solo but now do both solo and devouring Light .
The Outer Side is a 3-piece original rock band from New Haven. They consist of Jeff Maleri (Joe Division, ex-EULA) on guitar, Joe Nolan (Joe Division, ex-Kimono Draggin, Space Orphans) on bass and Ryan Boudreau on drums.
They range a variety of styles with punk, funk and alternative being the main ingredients. Just an all-around, original rock blend with melodies and rhythms that get stuck in your head.
Their live shows really showcase their versatility and energy. They have shared the stage with David Kendrick (Devo, Sparks), Reeves Gabrels (David Bowie, The Cure), and Richard Lloyd (Television).