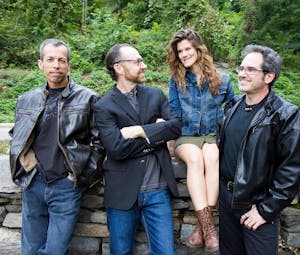 Driving Route 9, Kat Wallace & David Sasso
$8.00 - $10.00
Sales Ended
On Brown Paper Tickets
Fernando Pinto Presents
The experience of the original music of Driving Route 9 (DR9), loosely fitting the description of Modern Roots/Americana with Celtic influence, takes their listeners to a place you simply cant find anywhere else. DR9 was formed from the robust open mic scene on the CT shoreline with lead vocalist, Rebecca Gripp hailing from Delaware, drummer Jim David from Boston, whistle/sax player Geoff Cox from New York, and rhythm guitarist Barry ODoherty from Ireland.
While they begin their journey in New England, their efforts to extend beyond the region have yet to be heard while they record and produce their original music that was born in 2018. Their recent journey to Dublin, Ireland to record and to integrate the talents of professional Irish musicians, specifically with whistle, is truly creating an indescribable experience on their first upcoming record, Matter of Time, releasing soon. Driving Route 9 brings a high level of energy to its shows and is known to have some Celtic style audience participation.
Kat Wallace and David Sasso met playing hard and fast bluegrass with New Haven string band Five in the Chamber. Their shared background in classical music and affinity for all things trad brought them together to form an intimate and virtuosic duo. Both singers and multi-instrumentalists, Wallace and Sasso orbit around traditional folk, original songwriting, and the ever-evolving Americana movement. Their effortless vocal lines and innovative harmonization command the stage while allowing space for each song to tell its story. Their debut album, Stuff of Stars, is set to release in August 2019.