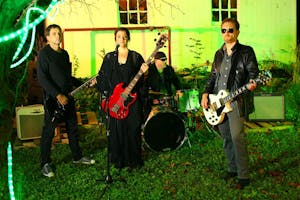 The Sunday Buzz Matinee from Cygnus Radio
Farewood is comprised of husband and wife songwriters Lou Lorenzo and Leah Booker. Rounding out the present lineup is drummer Kyle McCarthy and soundscape artist Ed Diaz.
The band finds inspiration for their tunes against the backdrop of their hometown of Meriden, CT. The desolate feel of the city surroundings consistently finds its way into the subconsciousness of their songs, yielding a sound that at times is shadowy, desperate and lonely. But like many Connecticut towns, once you venture out of the emptiness of its downtown center, the back roads can unfold into beautiful, almost country roads. That duality, or contrast if you will, can be found throughout their music. Their songs can be dark on the surface, but underneath it all lies a certain unmistakable beauty.
Married duo the Sawtelles are a balance of four elements, alternate-tuned guitar, various drum kit configurations, and two voices. Sparse but intricately arranged pop that is as lush as it is threadbare makes what is played as important as what isn't. Their strict DIY philosophy aligns them more with the hand painted Sun Ra LP's of 1950's and 60's than it does with those striving for mainstream commercial success. For two plus decades the Sawtelles have brought their original music to art galleries, performance spaces, coffee houses , restaurants, farmers markets, record shops, designer boutiques, night clubs, taverns, museums, breweries, fairs, festivals, television and live radio broadcasts. They have developed their craft with a multifaceted approach that is compatible with each venue they play. From the quietest acoustic sans electricity to the full speed ahead d.i.y. punk style show and all points in between the Sawtelles have consistently surprised, surpassed, and delivered.