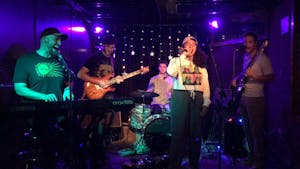 FaTE EP Release Show
The limits of humanity have been reached. The world is seeking a soothing balm to heal the wounds of modern time. We find our hero Fernanda standing at the precipice, ready to use the power of The Ephemeral to heal the world one note at a time.
Consisting of current Western Connecticut State University student Noah Feldman and recent alumni Brendan James Fox, the Feldman & Fox duo is a flexible acoustic duo that covers a wide variety of musical styles, including blues and jazz standards, classic rock, modern pop, folk songs, and traditional Irish music, as well as a growing catalog of original music. Feldman, 22, is an East Lyme, Connecticut native with nearly eight years of experience playing solo and in duos and bands throughout Connecticut. Fox, 26, of Bethel, Connecticut is a relative newcomer to the local music scene, but has been quietly honing his craft in and out of WCSU's music department for nearly ten years, while spending time on stage with Bethel based band Crosstown, as well as performing with Danbury's Musicals at Richter. Together, as a pair of multi-instrumentalists, vocalists, and songwriters, they blend unique approaches to interpreting and performing music to create a style that is both expressive and refined, playing a wide variety of music with arrangements that showcase just how much two musicians can really do on stage.