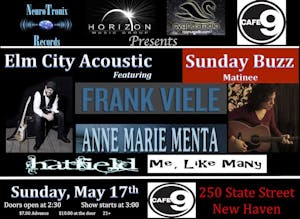 The Sunday Buzz Matinee from Cygnus Radio
Frank Viele
Anne Marie Menta, Hatfield, Me Like Many
Neutronix Records hosts an acoustic afternoon at cafe nine.
Up until now, Frank Viele has been something of a regional secret throughout New England. His quadruple-threat reputation as a singer, guitarist, songwriter and performer is unrivaled there, as recognized by the New England Music Awards for Album of the Year, Male Performer of the Year, and Live Act of The Year he has stashed somewhere in his Connecticut home.
Of course, musically tuned-in folks throughout the world have been hearing reports of Viele's prowess for several years. No Depression might have piqued their curiosity with its praise for his "vivid storytelling." Or maybe they read about his singing in The Alternate Root, which observed that his "street growl" could rivet passersby. Howl Magazine even called his shows "transcendent" and predicted that his music "will rattle your bones and penetrate to the core."
Truth be told, audiences around the country have begun taking notice as Viele plays in further-flung venues. Since his first album, Fall Your Way, dropped in 2015, he's been called to open for Will Hoge, Blues Traveler, Lee DeWyze, Zach Myers of Shinedown, The Marshall Tucker Band, and in his somewhat wonderstruck words, "artists who have been on my personal playlists for years."
So all the pieces are in place to establish Frank Viele as a musical phenomenon far beyond his home base. All that's needed is a spark to launch this rocket.
That's where What's His Name? comes in; a tour de force of passion, candor and craft. His singing is unforgettable — rough-edged yet nuanced, straddling that line where poetic interpretation and raw emotion meet. The impressions he made during his early gigs broaden on What's His Name?. Rugged Americana, deep blues and gut-wrenching soul create a potent new brew on "Cigarettes, Throwing Stones, & Lies." Unlikely elements — a gentle groove kissed by congas, a milky bass tone and wind chimes — caress Viele's anguished romanticism on "If You Could Only Read My Mind." Those same sentiments take on an even sharper edge when lashed with earthy like guitar and stirred by churchy harmonies on "Till The Bourbon's All Gone." The sting of betrayal turns up the heat even more over a thumping funk groove on the title cut. And one track, "Pomegranate," stands out from anything Viele has done before, thanks to the six strings that augment the reflective lyric, courtesy of arranger/cellist Dave Eggar (Ray Lamontagne/Coldplay/Pearl Jam).
Viele had been dividing his schedule between performing, writing and recording on nights and vacation time, which he paid for with a full-time day job. He was fully qualified for both, having graduated as valedictorian from the business school at Marist College, where he minored in music and earned the prestigious Wall Street Journal Award.
Music, though, was always his destiny. "I grew up working in my family's restaurant," he remembers. "Instead of typical chores I would peel carrots and potatoes and wash dishes during the week.There were three pool tables that took quarters, so it was also my job to count the quarters on Saturday mornings. I got to keep one of them when I was done, but I always put that quarter into this old jukebox at the restaurant so I could play Billy Joel's 'The Longest Time.' To this day, when I hear that song, I can still smell that dank, stale bar smell that comes with the mess from the busy night before."
"That," he adds, "is how I learned what music can do to you."
He started playing gigs as the leader of Frank Viele & The Manhattan Project, which sported a horn section and a sizzling mix of soul and jam grooves. With Fall Your Way he switched to working solo, cutting the basics of each song on guitar and then adding instruments one by one, crafting the band around each song.
Now, on What's His Name?, Frank has taken his experience on the road as a solo artist over the last few years into the studio and you can hear pieces of this artistic journey woven throughout this new collection of songs.
"I wrote most of these songs as I was traveling from gig to gig, in parts of the country I'd never seen before. What I experienced helped feed different elements into my music. I had the honor and pleasure of touring with great songwriters like Zach Myers, who exposed me to a lot of new ideas and approaches to the art of the song. I wrote specifically with the idea of making each song more memorable."
Viele accomplishes his mission on What's His Name?. Some of the credit goes to the guest artists he welcomed onboard, including Christine Ohlman, lead singer with the Saturday Night Live band who's also shared the stage with Bruce Springsteen, Brian Wilson, Elvis Costello, Dion and other rock luminaries. But the credit for this milestone release goes ultimately to Viele — to the tough choices he's made and the high bar he habitually sets, to his uncompromising honesty and commitment to making music that moves rather than sedates the heart and mind.
"I've never taken the easy road musically," Viele insists. "When you hear Otis Redding's Blue or Bob Seger's Night Moves, you feel it. Those songs grab you. That's what music is supposed to do. That's what I want to do."
And he does. The proof is in every moment of What's His Name? and in its aftermath, when you realize what you've been missing in your music for a long time — until now.
Anne Marie hails from New Haven, CT., where she has been a long time favorite singer/songwriter. She comes from a family of three brothers where playing and listening to music was their great passion and spent her younger years in cover country and rock bands before finally focusing on her own tunes. She has released three CD collections, starting in 1999 with her debut "Untried & True, followed by "When the Love Ran Deep" in 2004, and "Seven Secrets."in 2009. She is currently writing and planning for her fourth CD collection.
Anne Marie has been a featured performer at the Eli Whitney Folk Festival in New Haven, CT. and opened for artists such as Richard Shindell, The Kennedys, and Eddie from Ohio. She was a finalist in the 2004 South Florida Folk Festival Singer/Songwriter competition, and a showcase artist at NERFA (New England Regional Folk Alliance.) She also performed in 2012 at the CT Folk Festival.
Anne Marie accompanies herself on acoustic guitar and can appear solo or as part of a duo, trio, or quartet depending upon the venue. The most recent incarnation of the acoustic band features fellow CT musicians Mark Mirando on piano, Bob Csugie on upright bass and producer and collaborator Richard Neal on mandolin and guitar. "Seven Secrets," CD was recorded at Neal's Circle Sound studio in Stratford, CT.
Anne Marie songs range stylistically from contemporary folk tunes to innocent pop rockers, all featuring her warm vocals and guitar. The songs touch on the usual themes of love, life, and loss, but they deliver the listener to the not-so-usual place of recognition and solace.
Some descriptions of Anne Marie and her work:
"Singer-songwriters working in the folk tradition aren't hard to find. Those who keep you interested are." - Stamford Advocate
"The album is sweet and upbeat and sad and nostalgic without milking any of the above emotions the way Hollywood does."- New Haven Register
"Menta know how to set the mood with a catchy chorus and capture big feelings in the small details of a story." - Music Matters Review
To hear Anne Marie's CDs: "Untried and True," "When the Love Ran Deep," and "Seven Secrets" click on CD Baby http://www.cdbaby.com/Artist/AnneMarieMenta
Also available on I-tunes.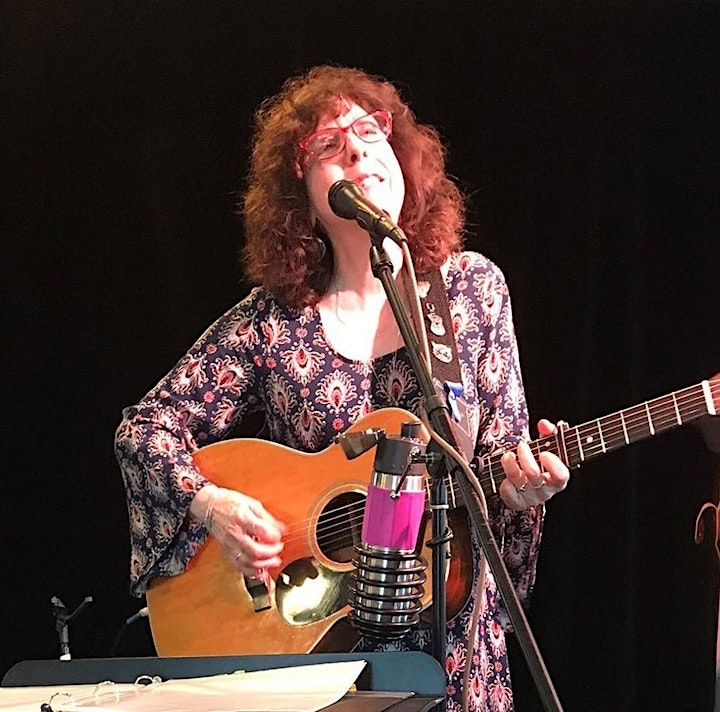 American singer/songwriter Hatfield drives forward a sound and energy unmistakably rooted in hard rock, but a closer listen reveals dynamic versatility in his writing. Songs like "Copin' Ways" deliver the soulful, rythmic guitar and throaty vocalizations of the blues, while songs like "64" delve into a murky, foreboding resonance behind bleeding, ethereal vocals. His music emphasizes lyrical exploration, shaping the underlying message that life is a cycle of triumph and struggle, necessary in forming one's identity.