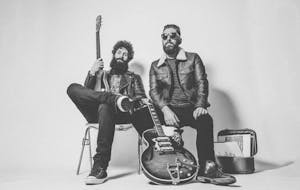 Boston's hottest garage blues outfit returns to Cafe Nine. These guys rip!
GA-20 was formed by friends Pat Faherty and Matthew Stubbs in Boston, MA in 2018. The project was born out of their mutual love of heavy traditional Blues, R&B, and Rock & Roll of the late 50s and early 60s. Faherty and Stubbs bonded over legendary artists like Lazy Lester, J.B. Lenoir, Earl Hooker, Buddy Guy, Otis Rush and Junior Wells. Feeling a void in current music, the duo have set out to write, record and perform a modern version of this beloved art form. Joined by drummer Tim Carman in 2019, GA-20 is a trio of 2 guitars, vocals and drums. Raw, passionate and honest performance, both on stage and in the studio, is the only goal. GA-20 released their debut album "Lonely Soul" Oct 18th 2019 on Karma Chief / Colemine Records. The album debuted at #2 on the Billboard blues charts.
Stubbs has spent the past 11 years as guitarist for Blues legend Charlie Musselwhite. During that time he has also backed up and toured with such Blues giants as John Hammond, James Cotton, Junior Watson and James Harman. Stubbs also leads his own original instrumental psych-rock band, 'The Antiguas'.
After coming onto the music scene with their powerful brand of psychedelic rock n' roll, Balkun Brothers are creating a style of music all their own in the USA and worldwide. Founding members Steve Balkun (guitar/vocals) and Nick "The Hammer" Balkun (drums/vocals) are gaining followers across the world, becoming known for their high-energy live shows. Balkun Brothers bring a fresh mixture of funk, rock, blues, and intense improvisation that has been impressing crowds from Paris to Amsterdam to New York City.
Balkun Brothers have been featured alongside acts such as Johnny Winter, Joe Bonamassa, Iggy Pop, Gogol Bordello, Vapors of Morphine, Motley Crüe, Slayer, George Lynch, Dub Trio, Eric Sardinas, Dopapod, James Cotton, and many more.
The Balkun Brothers return to their rock and blues roots on the power duo's latest album, The Sun Studio Sessions. The brothers pay tribute to their musical forefathers with ten raw and honest songs ranging from fast, up-tempo rock anthems to dirty, sweat-covered, backwoods delta blues. The album was recorded overnight, just how Sam Phillips used to do it with the blues legends, in the same room that captured countless hits. The duo, from Hartford, CT, channel the spirits of rock n' roll past and present their own powerful style in a space that provides the classic sound which cannot be replicated. Engineered by Sun Studios owner, Ples Hampton, using the same vintage soundboard, microphones and tape delays that Phillips utilized in the 1950's, the Balkun Brothers bring to life a studio that has been a sanctuary to many greats.
The band will embark on a full US tour and then will be returning to Europe for their 6th tour in England, France and The Netherlands.