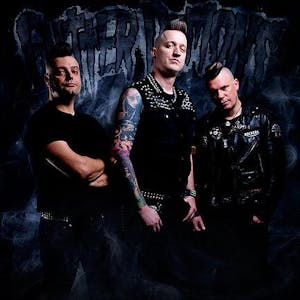 GO KAT GO!  brings Montreal's Psychobilly pioneers back to the Elm City for one night only!
Since their unholy birth in 2001, Gutter Demons have been tearing up the scene across Canada, USA and Europe with their intense stage shows, raucous rock n' roll music, red-blooded Rockabilly roots, Punk and Heavy Metal potency and downright dirty musicianship.
Gutter Demons are, without a doubt, among the pioneers of the Canadian Psychobilly scene. This Montreal-based three-piece has been burning up stages and melting faces around the globe for nearly two decades with their infectious brand of high octane psycho punk rock n' roll. The band has paved the way for other great acts like The Creepshow, The Brains and Raygun Cowboys to create a strong, loyal and vibrant community across the country. They've shared the stage with The Misfits, Rancid, The Reverend Horton Heat, UK Subs, Vibrators, Leftover Crack, Nashville Pussy (among many others). They've headlined international festivals like Psychobilly Meeting (Barcelona), Wreckers Ball (LA), Drop Dead Fest (NYC), Bedlam Fest (UK) and have appeared on countless compilations, seven inches, video game soundtracks and splits.
Now Gutter Demons are blasting back on the scene with their fifth and arguably best album to date. No God, No Ghost, No Saints is eleven tracks of ultra high-caliber, balls-to-the-wall, punked up psycho rock n' roll. From the blazing opening track to the epic closing medley, the album takes the listener on a hellacious joyride through the eerie underside of life, death and everything in between. These hardworking road warriors take no prisoners. Each and every one of their songs are delivered with the raw spirit of rock n roll; combining a sexed up rockabilly strut with the unapologetic fist in the air of punk rock and the manic mayhem of early metal. The Gutter Demons train is raging full steam ahead with North American tours lined up in fall 2018 and international tours to follow in 2019. No God, No Ghost, No Saints is your all-access ticket to the weirdly wild and undeniably dark world of the Gutter Demons.
For fans of: Motorhead, Judas Priest, ZEKE, Peter Pan Speedrock, Volbeat, Mad Sin, Nekromantix,
"In these times of copies from copies, it's refreshing to hear a band that dares to approach this rather limited genre in it's own way and succeeding with flying colors."​ – Wrecking Pit
"The Gutter Demons' psycho sound is refreshing and deep but they play the horror cards in a subtle way. The Gutter Demons continue to take great pride in releasing rich & well written concept albums while avoiding the pitfalls of the generic "zombie, hotrod, pin-up" category."
– Bucket List
Gutter Demons endorse: Dean Guitars, Outlaw Effects, Skull Microphones, Multi-Caisses
Johnny Cab is an American Psycho Punk band, from Hartford, CT. The group formed in 2016 when Chris Indigo (vocals), threw a Halloween party at his apartment and longtime friend David C. (guitar), showed up by surprise. In between emptying the punch bowl and bobbing for apples, the two decided to start a new band. They put a out call for a rhythm section. Tim Elsishans (drums) and Jeremy Smith (bass) jumped on board to complete the line up.
Their fast rising energetic sound is quickly gaining them recognition on the East Coast. Their psycho punk style is heavily influenced by the first-wave 77 sound. If you like early punk rock with a strange, zippy approach, then check these guys out.