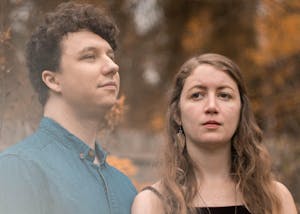 An evening of sweet sounding progressive folk music.
Honeysuckle is a progressive folk act that blends older influences and traditional instrumentation with modern effects and inspiration.
Comprised of Holly McGarry and Chris Bloniarz, this Boston based band can frequently be found performing across the country. Honeysuckle has performed an Audiotree session and at Newport Folk Festival, Lollapalooza, Mountain Jam, Americanafest, was chosen as a Converse Rubber Tracks artist, and has been nominated for Best Folk Artist of the Year, and Best Americana Artist of the Year four years in a row at the annual Boston Music Awards. In 2018 they won Best Folk Artist of the Year at the Boston Music Awards. They were also put in the Top 10 bands of 2016 So Far list compiled by NPR.
Honeysuckle just released their third full-length album "Fire Starter" on Antifragile Music. They also have three previous titles: "Catacombs" (full length 2017), "Honeysuckle" (full length 2016) and "Arrows" (EP 2015).
The Moon Shells are a project from Maggie Shar, Brian Slattery, Laura Murawski, Molly Merrett, and Charlie Shaw, who connected through the Appalachian fiddle community and started playing together as often as they could. Maggie Shar, Laura Murawski, and Brian Slattery met in 2015 and were drawn to each other by a shared sense of rhythm and improvisation, grounded in the Appalachian fiddle tradition but drawing from the many kinds of music they love from Louisiana, West Africa, Eastern Europe, and elsewhere, to create a sound that's emotional and groovy at the same time.
In 2018 Maggie and Brian found themselves writing songs and tunes together as well—enough for an album—and began recording them in earnest. The result was their first album, Seaside Asylum, out now. They asked Laura, Charlie, and Molly to join them in bringing the songs to life for a live crowd. They're booking shows into 2020 across the Northeast and are already conspiring on future recordings.
Maggie, Brian, Laura, Molly, and Charlie also recorded another album, Screech Plank, in early 2019—a way of circling back to, and moving forward with, the fiddle tunes that brought all of them together in the first place.