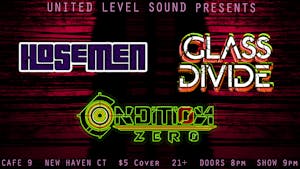 United Level Sound Presents:
Hosemen
Glass Divide
Condition Zero
$5.00
Tickets At The Door
United Level Sound returns with a night of Heavy Rock & Roll to jettison you into an early weekend.
An uncommonly hypnotic rock trio, Hosemen finds inspiration everywhere from the streets of Rotterdam to their dirty old hometown of Stamford, Connecticut.
Metal band assembled from groove, hardcore, and prog elements.
Condition Zero is a Melodic metalcore band that hails from central Connecticut thats set to release in late 2018. With members coming from bands such as Vena Amoris, Shattershpere, and Dread the Woods, Condition Zero is sure to turn the heavy metal scene on its end. The sounds of Condition Zero will no doubt be flooding mosh pits for ages to come by introducing melodic speed riffs mixed with sheer brutality while telling intricate stories with the lyrical content. Stories that all their fans get to hear.