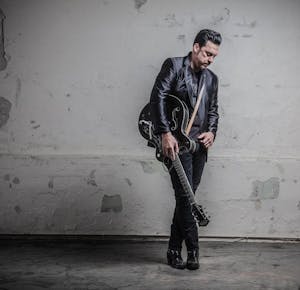 An intimate Acoustic Duo Performance!
"A lot of this stuff was what I liked as a kid," says modern-day outlaw country icon Jesse Dayton of his new album of cover songs, Mix Tape Volume 1. "Some of it is from super-early on, before I was even thinking about playing music. They're just songs I would hear on the radio in my sister's old '62 Rambler she would take me to school in. I'm hearing Neil Young, Gordon Lightfoot, stuff like that. Of course, when I got a little older, I saw The Clash in San Antonio at the Egyptian Theater. Joe Ely opened that show. That changed my life."
The dichotomy inherent in that Clash/Ely bill has ruled the Beaumont, TX native's career, either with his own rockin' country music or playing guitar for everyone from Johnny Cash and Waylon Jennings to punk standard-bearers X. He grew up, went through punk rock after that eye-opening Clash gig and the obligatory late-'70s/early-'80s suburban American teenage heavy metal phase. He apprenticed in zydeco bands and honky-tonk outfits, and played on a session for zydeco legend Rockin' Dopsey produced by Texas music legend Huey Meaux. He moved from Beaumont to Austin, to play rockabilly. He eventually realized the stuff he grew up with – the vintage country music infusing his Beaumont childhood, from Johnny Cash, George Jones, Waylon Jennings - had an honesty, a passion and a rawness that modern country music didn't have, a spirit the best punk rock shared. He started relating to his roots again.
But to understand how Jesse Dayton arrived at Mix Tape Volume 1, you have to look to the five years he spent being Thursday's entertainment at Austin honkytonk institution The Broken Spoke. No matter how many strong LPs you've issued of your own material, when you are in that situation, having to play five sets-per-night? You can't rely on your original output.
"I was a human jukebox," Dayton groans now. "But it's where I learned how to pace my sets. It's where I learned how to be a band leader. It's about watching the dancers - knowing where to play a polka, knowing where to play a waltz. Quite a bit of work and study went into that gig. It was packed every time. But I started having Groundhog's Day flashbacks. I wanted to kill some of those goofy dancers, after awhile." Thankfully, X's John Doe stepped in and asked Dayton to be his touring guitarist, showing him another way to play music. Otherwise, he might have been recording Mix Tape in prison!
Here and there, Dayton stays faithful to the original versions of his Mix Tape entries. For instance, Dr. Feelgood's revved-up pub rocker "She Does It Right" remains in the same neighborhood, with little renovation. It's when Dayton indulges his imagination that things get interesting. He retrofits The Clash's reggae homage "Bankrobber" with a Bobby Fuller Four arrangement, the way The Clash converted "I Fought The Law" into a furious punk anthem. AC/DCs "Whole Lotta Rosie" morphs into something akin to ZZ Top playing Slim Harpo's "Shake Your Hips." Speaking of ZZ Top, their "She's A Heartbreaker" wouldn't have been out of place on a Flying Burrito Brothers record. The Cars' midtempo chug "Just What I Needed" becomes the sorta two-step, buckle-polishing Texas honky-tonk shuffle Dayton would've whipped out on those Broken Spoke Thursdays. Bruce Springsteen's "State Trooper" becomes a Cramps-style punkabilly stomp.
"The world is filled with people aping Willie Nelson and Waylon Jennings songs," he says. "It's so unoriginal. I had to make it sound like me, no matter where it came from."
But it's when he's lifting material from his older sister's '70s singer-songwriter records – Jackson Browne's "Redneck Friend," Neil Young's "Harvest," Elton John's "Country Comfort" - and making pure, achin' country music out of it that Dayton's redemptive powers really shine. It's especially evident when he gives Gordon Lightfoot's "If You Could Read My Mind" the sort of arrangement Waylon Jennings applied to "MacArthur Park," or to Paul Simon's "The Boxer," as he did when Dayton played with him. It works.
"People think Waylon rode around in a pickup truck listening to Hank Sr. Waylon was cruising around in a Mercedes, listening to singer-songwriters," Dayton snorts. "He had a hit with 'Are You Ready For The Country?' by Neil Young. George Jones had a hit with 'Bartender Blues' by James Taylor. It might be his greatest vocal performance ever!"
"But now I look at the records my sister had - the Jackson Brownes, the Elton Johns - and I think, 'Okay, now I get it.' There's a lot of great material there. It's all about interpretation."
And interpret, he does. Quite brilliantly, too. It was something Jesse Dayton's been needing.
"I'd done almost five years on tour," he sighs, "doing two original records back-to-back. I played on a lotta other people's records. I just needed to take the pressure off, just have some fun. And that's why this is Volume 1 – what if I need to do this again?"
Diversion Records Recording Artist Pete Mancini got his start as the frontman and songwriter of Butchers Blind, a critically acclaimed rock band from NYC. His debut solo album Foothill Freeway explored the Americana influences that were a hallmark of his work with his former band.
In 2018, he released a live EP, Alive in Patchogue. Since signing with Diversion Records, Mancini has released three singles, Pine Box Derby, DUI Blues, and My Hometown. His second full length album Flying First Class was released in 2019. Mancini's songs have received glowing reviews and radio airplay around the world, and they continue to win over hearts and minds wherever they are heard.
Over the years, Mancini has opened for acts such as Blues Traveler, Gin Blossoms, Pure Prairie League, Robbie Fulks, James Maddock, Marah, Steve Forbert, Larry Campbell & Theresa Williams, Kevin Gordon, and Iain Matthews.