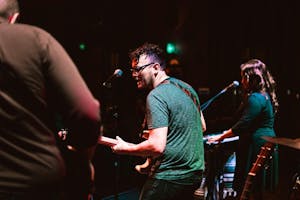 Philly renaissance man Jesse Gimbel takes a trip the Elm City.
Jesse Gimbel is a multi-instrumentalist and the owner of Jesse Gimbel's Basement recording studio located in the Philadelphia area. From the performance of guitar, bass, drums, and piano to expertise in each step of the recording process, Jesse is self-taught and knows all aspects of what it takes to make a great record.
Jesse's current job role as an audio engineer in his recording studio led to more producing decisions than solely engineering, which is exemplified in his latest album, called Decathect (2014, Wissahickon Records). Jesse worked on Decathect in between recording and jobs for his different notable clients. While balancing recording albums, filming studio sessions, and a love for photography, Jesse was able to take the time to create the album he wanted, down to the last note. In his work, you can hear the heart and thought that went into every note. Jesse has also recorded himself preforming covers and originals in studio sessions that has gained him a strong following on Youtube, as well as other social networks.
Gaining comparisons to Death Cab For Cutie, Conor Oberst, and Elliott Smith, Jesse has now recruited members from September Call-Up (Christian Bitto) and Night Windows (Ben Hughes, Ryan Buzby) and James Suit to lend a skilled hand in recreating the album in an energetic, explosive, cinematic live setting.
Lyon Street Fire is a New Haven, Connecticut based folk-rock band led by singer/songwriter Michael Hunton and is a sound inspired by delta blues and folk with a backbeat. The band is comprised of New Haven's best soul singers and musicians.
Come to our shows, sip some whiskey, stomp your feet and awaken your soul.
See you on stage.