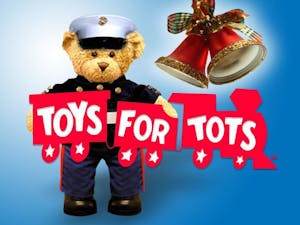 Joey Wit and The Definition, Shellye Valauskas Experience
Rock & Roll Toy Drive for Toys for Tots, Free Admission with Toy or $10 suggested donation.
As he sings in his song, Throwing Stones, "...I'm a son to the North and a brother to the South", Joey Wit's story is just as unique and original as his sound. As a former professional athlete, it would seem Joe dedicated the majority of his life and childhood to the game of baseball. However, music was just as important as athletics in his upbringing. Growing up in a household with parents whose record collection included everything from Chet Atkins, Duane Eddy and Elvis Presley to Pink Floyd, Jimi Hendrix, and The Rolling Stones, it's easy to see how the Connecticut native gravitated towards rock and roll. After spending several years in the American Southeast (Durham, NC) working on his musical craft, Wit returned home to New England in 2015 and started recruitment for his rock and roll band, now known as The Definition. Teaming up with long time friend and lead guitarist, Clay Selmont (St. Tone/Milk Truck) forming a musical relationship in the likes of a modern day Tom Petty/Mike Campbell, the two guitarists have generated a top layer of sound creating a sonic conversation. With inspiration coming from countless sources such as the Beatles, Radiohead, Wilco, Doves and Oasis; Joey Wit and The Definition offer an innovative and energetic approach to rock and roll with a little something every music fan can appreciate.
It took nearly a decade, but The Shellye Valauskas Experience (Shellye Valauskas and Dean Falcone) will release their second recording, History of Panic, on February 10, 2018. History of Panic, their first full-length album, is the follow-up to the 2008 EP Box It Up, which was named one of the top 10 local releases in the yearly roundups in the New Haven Register and New Haven Advocate. Recorded at Q Division Studios in Somerville, and Firehouse 12 in New Haven, History of Panic features collaborations with artists who have shaped their sound in one way or another – legendary drummer Dave Mattacks (Fairport Convention, XTC, Paul McCartney), Jon Auer (The Posies, Big Star, Dynamo Royale) and Matt Pynn (Dwight Yoakam, Miley Cyrus), as well as New England favorites Ed Valauskas (Juliana Hatfield, The Gravel Pit), Scott Janovitz (The Figgs, Graham Parker), Jen D'Angora (Jenny Dee & the Deelinquents, The Downbeat 5), Abbie Barrett, and Brendan Haley. Also on the album is drummer Jim Balga who goes back to the early '80s with Falcone, as members of legendary New Haven pop combo The Excerpts (which also included Jon Brion).
Based in the New Haven area, Valauskas (a high school biology teacher) and Falcone (who wears many hats) have been making music together for years. In addition to being Valauskas' songwriting collaborator, bandmate & producer, Falcone has served the Connecticut music scene since the early '80s with Jon Brion in The Excerpts, his own Dean and the Dragsters and a host of others. He has also worked on a national level collaborating with Norah Jones, Brian May (Queen), Aimee Mann, Lydia Loveless, Susannah Hoffs and Neko Case. On History of Panic, produced by Falcone, their shared love of the punchy pop of Crowded House, The Posies and Aimee Mann helps them nail a distinctive, accessible, radio-friendly sound from the start.