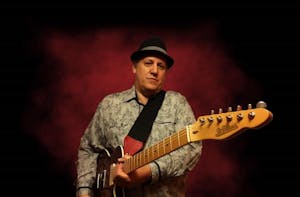 John D'Amato appearing at Cafe Nine in New Haven
Since John D'Amato entered the blue scene in 2010 with the release of his debut CD "Ain't No Big Deal" his guitar prowess and soulful vocals have landed him on stage with many notable musicians. Such as :B.B. King; Billy Cox; Eric Gales and Joe Louis Walker. Joe Louis Walker was so impressed with John's abilities he asked John to perform with him on his new Alligator Records Release "HellFire", produced by Tom Hambridge (who has won Grammys for his work with Buddy Guy and B.B. King ).
Here are some quotes that capture the essence of John's live performances: "He just keeps spewing out wilder and wilder phrases until you succumb to giddy delight or vertigo." Guitar Player Magazine;" John D'Amato and Eric Gales, amazing blues playing ." Guitar Jam Daily; "John D'Amato can sing the Blues up a storm." C.M. Jazz and Blues; "John D'Amato and his band knocked it out of the park. Rocking Greenwich Village with a blast of super-charged blues." Jon Sobel Promoter, Soul of The Blues Festival.