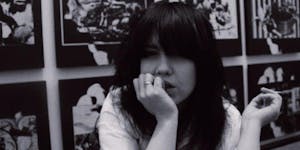 Katie Kim
Little Silver, Frogbelly And Symphony
$0.00
Sales Ended
On Ticketfly
Katie Kim, Little Silver, & Frogbelly and Symphony appearing at Cafe Nine in New Haven
Mood is central to the expansive musical landscape of Katie Kim. Darkened corners, icy atmospheres and hypnotic knife edge soundscapes. Piano chords stretch to infinity, silence is employed as devastating punctuation, while the voice, in it's salience is all the scattered beauty a glimmer of light can illuminate. Cinematic in scope and tectonic in delivery, It's as deep as you want or need it to be. A slowcore waltz at the bottom of the ocean, steeped in gloomy ambience. Tension tugs at the heart with this euphoric exploration into the depths of darkness and light."Holding my hand now the tides incoming/Make us a shield so the light won't get in."
Katie Kim has released four studio albums to date: Twelve (2008), Vaults Vol.1 (2011) Cover & Flood (2012) (UK release 2013) and SALT (2016) Nominated for The RTE Choice Music Award for Album Of The Year. SALT was recently performed live in a series of concerts with Katie Kim and Crash Ensemble in its entirety, in an alternative reworked form, with arrangements from composer Sean Clancy for Crash. She has also scored an original soundtrack for the 1928 surrealist Germain Dulac silent film, "La Coquille et Le Clergyman", commissioned by The Cork French Film Festival, which she also performed with her full band, live, in front of a sold out audience. This original score will be released later this year as part of a multi media package.
She has been part of many collaborations, including The Waterboys, Sean MacErlaine, Crash Ensemble, David Kitt and many more.
"The elegantly understated debut from this Brooklyn band does what great, grown-up indie rock at its best has always done: It maps out states of personal, emotional and historical in-betweenness with careful, intelligent grace… Songs […] take their time building from muted beauty to closely held grandeur."
—ROLLING STONE
"Once they emerge from the trancelike perfection of [Somewhere You Found My Name's] first two tracks, they and their band rock out… Don't wait for them to come to your town, just buy the darn record."
—NO DEPRESSION
"Little Silver has a familiar, delicious vibe… Listen, for example, to a cut called "Anytown" and hear echoes of the New Pornographers. The brew of ethereal harmonies, majestic arrangements and gentle melodies proves there was more precious metal in those hills… In "You Slept Through Summer," an evocative sonic journey through the passing of time, the words themselves are so rich they feel like instruments… The album is built on delicate harmony, and Simonian's voice, in particular, is lovely. In fact, it might be its similarity to that of Neko Case […] that beckons that comparison. It's good company; Little Silver has shown it belongs there."
—ASSOCIATED PRESS
Frogbelly and Symphony is an international band, splitting its time between Sheffield, UK, and Brooklyn, NY. Thomas Hanley, Liz Hanley, Ben Trott, and Ray Rizzo come from a wide variety of musical and cultural backgrounds, bringing in a world of influences. They reappropriate the heritage of Rock and Roll and also the folk traditions of Ireland, Britain and America.
Liz Hanley (lead vocals, violin, keys) was raised in an Irish family in Boston Massachusetts learned her traditional Irish and American folk repertoire from her father and grandfather. She studied classical violin at NYU and has been a Brooklyn resident for over 10 years. She's an active contributor to the traditional music scene in NYC and has worked and toured with Brooklyn rock band Emanuel & The Fear and Irish musician/folklorist Mick Moloney.
Thomas Hanley (formerly Thomas Lebioda) the singer, composer and bassist of Frogbelly And Symphony grew up in Hamburg, Germany with his Polish immigrant father and then moved to the UK. Asserting himself into escaping prejudiced and conflicted circumstances, he first started playing bass in punk and rock bands, then branched out in into experimental music, composing, producing and visual art collaborations. He works in Sheffield as a music producer and is the owner and manager of Lableship Records.
(Liz and Thomas got married in 2013. They are Sheffield UK and Brooklyn NY residents and split their time between both 'homes'.)
Guitarist Ben Trott sprang from a family deeply rooted in the English folk tradition. He studied classical and jazz guitar in Doncaster, UK and has been a member of The Albion Band and several other UK-based folk ensembles. Besides Frogbelly and Symphony, Ben has lately been touring with Irish-English folk musician Tim Edey.
Ray Rizzo (drums, vocals) is mostly known as a session drummer in NYC. He has recorded and played with artist such as Bob Weir, Glen Hansard, Josh Ritter, Sam Amidon, Sam Cohen, Danger Mouse, Yo Yo Ma, Julia Stone, Trixie Whitley and countless others. He is a founding member of Frogbelly And Symphony and also plays in the band Corporal (with actor Michael Shannon).