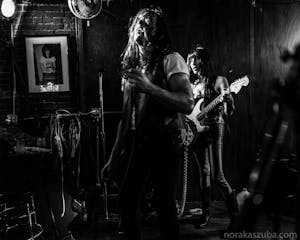 Dig the primal beat of the Voodoo Rock & Roll sounds of Killer Kin.
LEWD LOVE, BETTER OFF-BITTERNESS, AND A DEMAND FOR BEDEVILING ROCK'N ROLL. A PRODUCT OF PRIVATION, KILLER KIN WAS FORMED IN THE WINTER OF 2019 BY MATT & CHLOE.
BAD BAD MINDS AND BLACK LEATHER BINDS. A LITTLE CREEP N' CRAWL FOR ALL
FaceKiss
Heavy Necker burst onto the unsuspecting rock world in 2011 as a three-headed, rip-snorting party-beast fueled on classic rock, heavy blues, and the sweet narcotic of youth. Hailing from Peabody, MA where there are too few rockers to boot, they wave their freak flags high with sparkling bruised drums and electric guitars set to stun. Heavy Necker is Christopher George Cardone on guitar and vocals, Keith Kurpiel on bass, and Mike Damocles DeSantis on drums.The band has self-released 3 EPs, 1 Live recording, a 7" 45rpm vinyl record, and are currently in the process of writing and recording their first full length album.
Don't ask what kinda rock it is, because it needs no prefacing. What kind of rock are the Rolling Stones? Zep? Cream? The Hellacopters? It's that kind, man. It's ROCK. It's easy, it's sleazy, and it gets you right where you're going, every single time. Since then the three hip young dudes who keep this infernal machine ablaze have been tearing up stages all over the East Coast, blowing minds, breaking hearts and delivering high-contact, high-velocity, high-impact rock n' roll shows that leave audiences sore in the hip and satisfied, every time.