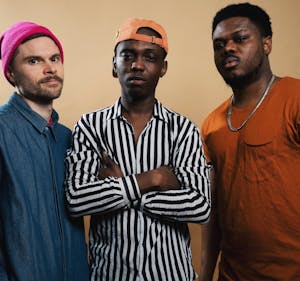 New York's hottest Congolese dance party comes to the Elm City!
Loboko is a new Congolese dance band featuring young star Yohni Djungu-Sungu. Loboko is post-soukous dance punk, a wall of fiery guitars, pounding bass and drums, and animated vocals. Drawing on the richness of Congolese music history and the multi-cultural diasporic experience of life in New York City, Loboko creates a raw contemporary sound that inspires non-stop dancing.
Prince Negasi is a Reggae Singer , Musician and Producer out of Portmore, Jamaica. His band Souls of Zion is a young generation Roots Reggae musicians that keeps the fire burning, Spreading "Word Sound & Power" with The Teachings Of His Majesty Emperor Hailie Selassie I . In 2018 The band opened for Kabaka Pyramid and The Late Ones in New Haven, CT. Over the summer of 2019, Prince Negasi toured the northeast from Brooklyn, NY to Canada opening for major acts such as Akea Beka, Iba Mahr and Roots of Creation & Many More , Started 2020 On Stage With High Energy at Sound Di Alarm Music Festival in Linstead, Jamaica. Look out for Di New Album Of 2020 , Selah !