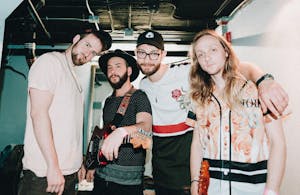 Bostons genre bending Los Elk make their cafe nine debut.
Since their 2015 arrival in Boston, Los Elk has quickly evolved into one of the city's premier genre-bending Indie acts, making waves as the newest must-see band.
Uniquely mixing Indie-Rock with flares of funk, pop, and Rn'B, Los Elk's razor sharp sound and high energy performances drew attention, and it wasn't long before they were playing sold out bills throughout the region. The band's fresh approach to songwriting, which brings musical edge to creative pop numbers, has even landed them in Spotify's U.S Viral 50 chart and accrued millions of streams. From sold out cross country tour dates and festival appearances, to acoustic gigs in the heart of Boston, Los Elk is a dynamic four piece that can be found tearing it up with their motley crew of die hard fans and friends.
Phat A$tronaut is an organically grown, experimental soul ensemble from the funkier parts of Connecticut.
The band formed shortly after singer/songwriter, Chad Browne-Springer, and guitarist/musical director, Mark Lyon, met on a D'Angelo tribute gig.
Their sound consists of booty shaking rhythms and meticulously crafted arrangements with pop sensible songwriting at the forefront.
Phat A$tronaut acknowledges many influences, including Prince, Hendrix, D'Angelo, Erykah, Fela, Frank Ocean, Knower, Hiatus Kayote, and many more, while maintaining undeniable originality.
In just over a year of performing, Phat A$tronaut has become a high demand act on the regional scene, having performed at some of the area's top venues including Brooklyn Bowl, Toad's Place, The Warehouse (FTC), and many more.
Be sure to spread the word of Phat A$tronaut, and listen to our debut album 'The Fifth Dimension' which is available on all streaming services.