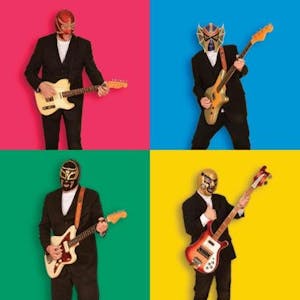 Go Kat Go! Presents "A Tiki Halloween Party" with Los Straitjackets.
Los Straitjackets
The Zambonis
Los Straitjackets & The Zambonis appearing at Cafe Nine in New Haven
Los Straitjackets are the leading practitioners of the lost art of the guitar instrumental. Using the music of the Ventures, The Shadows, and with Link Wray and Dick Dale as a jumping off point, the band has taken their unique, high-energy brand of original rock & roll around the world.
Clad in their trademark Lucha Libre Mexican wrestling masks, the "Jackets" have delivered their trademark guitar licks to 16 albums, thousands of concerts and dozens of films and TV shows. Viva Los Straitjackets!
"On paper, it sounds like a novelty: an album of songs that celebrate hockey. But in the hands of The Zambonis (a pop-rock quartet named after the ice-grooming machine), the concept is elevated to an art form that won't melt under the heat of critics or music fans. Despite the specificity of the album's theme, The Zambonis rock out like the best power pop units. What's more, they have a sense of humor about themselves…A timely and surprisingly appealing release."
--Billboard
"They're actually funny and actually rock!"
--Time Out New York
"Their new record is as goofy, poppy and puck-obsessed as their previous two…Hockey heads and indie rock fans, you'll love these guys!"
--ESPN Magazine
"The Zambonis may sound like a simple novelty act, but it scores repeatedly with a bunch of snappy little power-pop songs. Even if you wouldn't know what a slapshot was if it hit you in the face, you'll cheer."
--The New Yorker
"The Zamboni is a massive machine used to smooth the ice at hockey rinks, but these days the name has a much cooler reference.
--Mike ("Doc") Emrick, NHL Commentator
"I love The Zambonis!"
--Alexei Kovalev, New York Rangers
"The most insidious threat to Canadian hockey hegemony is…a quirky power pop band called The Zambonis."
--The National Post (Canada)
"You wacky singing hockey nuts!"
--Bobby Orr
"With a repertoire comprised exclusively of hockey songs, you'd think they're destined for a short run: A cult band singing about a cult sport…but their cult is getting noticed."
--The Village Voice
"My day ended on a phenomenally high note. I went to see The Zambonis, who are the best power pop band ever to sing songs about hockey."
--TheMusicSnob.com
"There's something weirdly affable about a bunch of guys who love hockey so much, they've dedicated a band to it."
--The Village Voice
"Like a beach party on ice!"
--Jonathan Richman
"Dude, I love The Zambonis."
--Ben Kweller