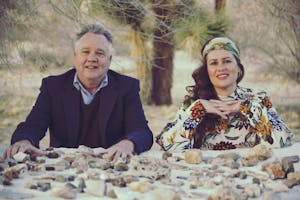 Americana music pioneer Mark Olson and Norwegian musician Ingunn Ringvold play a record release show in New Haven.
Magdalen Accepts the Invitation is music that will speak to you about things that have hap-pened! An album that sounds like you are out in the desert all by yourself. Remembering child-hood experiences and musical instruments and all the joy that took place.
"The writing of the music for the new album is the desert I long to return to," Mark explains. "This valley of sounds is where I really want to be and what takes up the most time in my con-sciousness. The remembering of how I was just a young teenager driving up Topanga Canyon to a bluegrass festival. The sounds of banjos in the Santa Monica Mountains and the beautiful outdoors."
"I listened to the folk/blues of Dave Van Ronk and the brit/folk of the Watersons when I first started out writing songs in my 20s," he continues. "I really got into the historical/spiritual songs that they offered up. I like themes that are ancient. The title of our new album, Magda-len Accepts the Invitation, relates directly to songs like "Samaritan Woman at the Well," "The Cherry Tree" and others I learned from these two artists."
Mark Olson was born and raised in Minnesota by a family of mostly farmers and school teach-ers. He has been involved with musical instruments since the age of twelve and is self-taught for the most part and uses alternate tunings and two-part unison singing followed then by breaking off into harmony in his writing and live performances. In 1985, he founded the Jayhawks and was a principal songwriter, singer and guitarist for the band's first four albums. After the Jayhawks, Olson formed the Original Harmony Ridge Creekdippers, touring in Europe and making seven records. With his wife, Ingunn Ringvold, he has made three albums, includ-ing Magdalen Accepts the Invitation.
Ingunn Ringvold, Mark's wife and musical partner, comes from Larvik, Norway, the home of Thor Heyerdahl, the explorer of Easter Island and Kon Tiki raft author. She has been singing in public since she was very young. Her voice is one of natural beauty. She hears music in her heart and writes emotionally dramatic and moving string arrangements. Ingunn also plays Qanon, Mellotron and djembe.