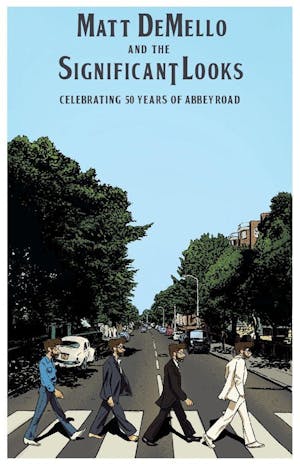 Abbey Road 50th Anniversary Tribute
Matt DeMello & The Significant Looks
Tate & Silas, Mickey Blurr
$5.00
Tickets At The Door
For the 50th Anniversary of Abbey Road, Matt DeMello & The Significant Looks will perform the Album in it's Entirety
Matt DeMello & The Significant Looks
So I'm in New York last week, at the World Policy Institute, recording a podcast about the World Bank's involvement in the displacement of over 3.4 million people in the last few years...
The guy engineering their podcast seems cool, professional, and he's not too mean when I screw up a few takes.
It's kinda fun, but all fairly staid. Then I discover we have a mutual interest in music, and that he actually records. Send me a link, I ask.
He does, and this is it.
And, it's beautiful.
Kind of Antony and the Johnsons with the histrionics dialed down a bit, or Regina Spektor with more hope. His keywords on Bandcamp are 'experimental baroque pop folk indie fusion jazz New York songwriter progressive pop.'
Now that's a genre.
I think it's lovely music, aggressively personal.
-- Chris Roper, Noonday Tune August 2015
Two-piece band from Branford, CT! Rock N' Roll!! Looking for answers and taking names, writing songs of love and loneliness!