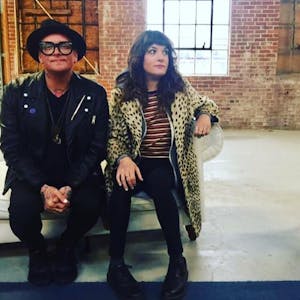 Music and Art collide at Cafe Nine!
Schnabel weaves spoken word and poetry into his songs, speaking honestly of the anxieties and struggles we navigate in our daily world and often don't speak of or share. Through empathy and compassion, schnabel hopes to give strength and shine a light on these forgotten corners through his direct and soft hearted art.
Schnabel has toured with The Hold Steady, Frank Turner, Lucero, John Moreland, Dave Hause and Beach Slang.
Vanessa Jean Speckman is a visual artist and writer living in Columbus, Ohio originally from the Bay Area, California. She works with the alphabet and multiple mediums as a method for navigating connections with people, day to day experiences and being alive. She explores vulnerability through words expressed on tangible and wearable art via paint, leather and lace.
Speckman has toured nationally and internationally, bringing her nomadic art and pop up shows from dive bars to galleries. She hopes with her unconventional approach, to dismantle the norms of how we interact with art. Speckman has worked with Julien Baker, Frank Turner, John Moreland and July Talk.
Throughout the past 15 + years, Christian Marrone has proven to be a dynamic songwriter and performer. Whether fronting a band or playing solo, his soulful and gravelly voice commands attention, as his hard-hitting lyrics might make you laugh, cry, or take you by surprise. He is currently in the studio putting the finishing touches on his upcoming album "Don't Sell Me Your Hate" to be released early in 2017, along with a music video by a veteran filmmaker. Mixing Rock, Folk, Punk, and Alt-Country, there's a little something for everyone to grab on to. In the past, Christian has performed with notable artists such as Jonny Two-Bags (Social Distortion), Grant Hart (Husker Du), Jesse Malin, Local H, and Murphy's Law. For fans of: Paul Westerberg, Chuck Ragan, Frank Turner, and Laura Jane Grace