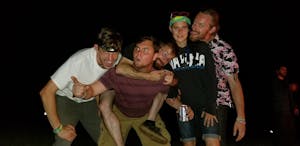 Mike and Hannah's Birthday show/fundraiser for KMA Fest.
The project is composed of the leadership and songwriting of Katy Hellman and the creative collaboration of Steven Lebel, who together write and arrange songs that are both experimental and deeply familiar. They are supported by the powerful voices and musical talents of Maddie Rabin and Leah Goldman.
Ruby emerges at a point of tension. It is an ode to the wild grandness of being alive: explosive joy, dissonant chaos and deep guttural rage. It is a quest to feel the raw beating heart at the center of everything.
The collection of music crosses genres, ranging from mountain folk to grungy rock. The project is built around strong vocal arrangements and harmonies, punchy bass lines, intricate drumming and lyrical melodies.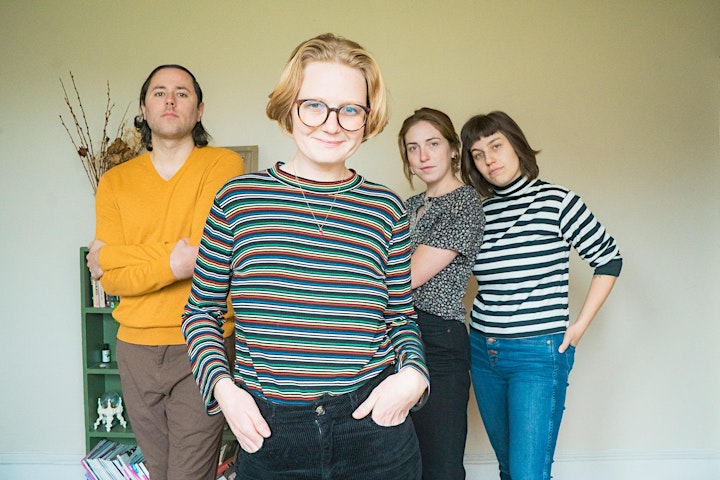 the garbage-fire of the earth smoulders around you
you look down to discover you are standing on a political campaign advertisement from the old, cartoon dream-world. it occurs to you that the last time you will have ever used money was to pay $700 for car insurance. you laugh. you find an ancient case of four loko. might as well get quatro-crazy, you think to yourself, as the smell of burnt plastic stings your sinuses.
you decide to climb to the top of the dirtiest landfill you can find, and throw a dance party on the disposable remnants of the capitalist hellscape. you listen to trash boy on your headphones, and as you thrust your body into an uncontrollable frenzy, your mind races back to every arbitrary oppressive societal expectation that was ever forced on you in your youth. so much study. so many rules. yet all our educations, governments, and billionaires did not save us. finally, outside of technology and the cobwebbed halls of academia, you are free.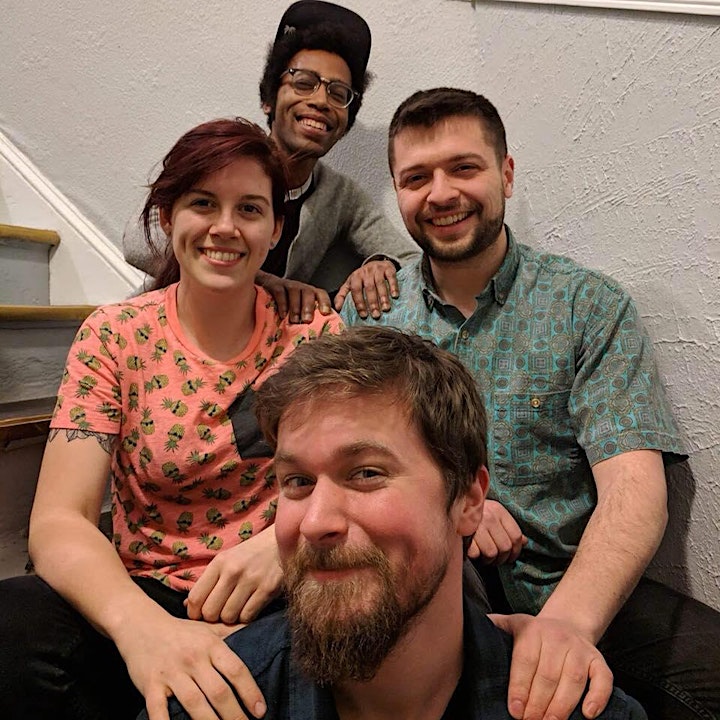 Fiction was formed in early 2015 but the band's roots can be traced back to 2011, where founding members Jimi Mann (vocals/guitar), Chris Siena (drums), and Joao Joaquim (bass) formed The High Tides after meeting at Southern Connecticut State University.
'Firewater Zoo' was the band's first endeavor as Fiction. Released on June 4th 2016 the record was a presentation of raw, bluesy, garage rock. Later that year the band brought on fellow SCSU alum Matthew Gambardella as lead guitarist, vastly expanding on the well established sound.
April 2017 brought the departure of founding frontman Jimi Mann and, determined to press on, Fiction contacted Ethan James, who they had first met about a year prior. Ethan opened for Fiction as an acoustic act throughout the summer of 2016 after his unique sound and dynamic performances impressed the then-trio. Ethan brought his own style and many of his own original songs with him and, inspired by the change, Fiction ditched their back catalog to start fresh with a brand new sound. Ethan, Joao, Matt, and Chris bonded through a month of exhaustive rehearsals and exploded onto the stage for the first time at Foxwoods Casino in June 2017.
Not known to sit still, Fiction spent the remainder of 2017 writing new material and playing out at every possibility. This rigorous schedule put them in a good position to begin 2018, by recording an EP with Sam Carlson of Sans Serif Records. 'The Other F Word' - a selection of rock tunes infused with folk, roots, reggae, punk, and more - was released on April 20th, 2018. The album
The year following the EP release was incredibly busy, as the band gradually built more momentum. Ethan picked up an electric guitar rather than his signature acoustic, and the band's sound became bolder. Thanks to the support of their fans, friends, and family, Fiction was nominated to compete in a battle of the bands competition for a coveted spot at the 2019 Strangecreek Campout Festival. After winning three consecutive rounds Fiction went on to play Strangecreek in front of hundreds of new faces, making tons of new friends and fans.
After the Strangecreek set, Matt unexpectedly announced that he would not be continuing with Fiction. With a 2 week, 4,000 mile tour just two months away, Ethan, Joao, and Chris made the decision to hit the road as a trio. To work out their new arrangement Fiction frequently played local shows and festivals, as well as Manhattan staples such as The Bowery Electric and Rockwood Music Hall. For several longer sets Brad Griffith of Bangcreek Puppies was brought in on lead guitar.
The trio embarked on their first tour together in late July 2019, playing New Haven CT, Brooklyn, Philadelphia, Richmond, Raleigh NC, Spartanburg SC, Charlotte NC, Nashville, Pittsburgh, Holland VT, Fitchburg MA and returned home after two weeks on the road to play a homecoming show in Bridgeport, CT. It was at this show that Brad, who had joined the band for this set, was announced as the new lead guitarist to much fanfare from the audience - clearly a good sign.
As the summer of 2019 comes to a close, Ethan, Joao, Brad, and Chris are playing and rehearsing extensively to work out new material, with plans to get back into the studio ASAP.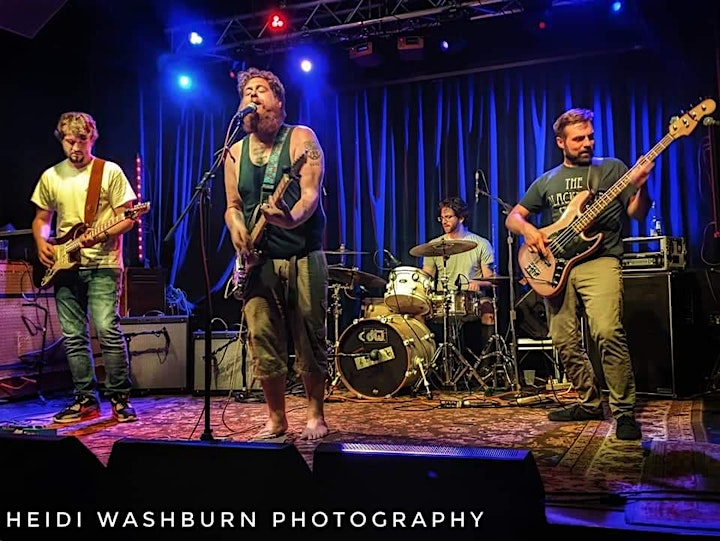 We're Trash Boy and we're here to take out every last garbage.

music: trashboyphilly.bandcamp.com
gram: instagram.com/trashboyphilly
tweet: twitter.com/trashboyphilly
tube: youtube.com/channel/UCW3T7oTTuMHwM_lD4xu7kEA
wix: trashboyphilly.com
tour: trashboyphilly.wixsite.com/mysite/tour
Individual aliases:
Ad De Feijter AKA Mr. Fact
Andre Vellekoop AKA Andrew Noname
Ed Smidt AKA Pulsemaster E