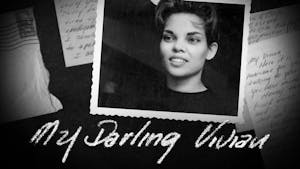 My Darling Vivian
$7.50
Tickets At The Door
On NH Docs
We all know the story of Johnny and June..... now meet Johnnys first love Vivian.
NHdocs & Cafe 9 present:
"Brings a woman erased into vivid focus... engaging and revelatory... deeply affecting. My Darling Vivian relates a little-known love story, great in its own right... with heart-stopping poignancy." —The Hollywood Reporter
"An exceptional documentary that separates fact from myth... a fascinating and affecting corrective..." —Variety
"Thoroughly engrossing, often heartbreaking..." —Rolling Stone
"A long-overdue must-see that sets the record straight... There is great value to be found in My Darling Vivian, if you're up to walk this line." —Film Threat
In 1951, Catholic schoolgirl Vivian Liberto meets handsome Air Force cadet Johnny Cash at her local San Antonio, Texas skating rink. Their whirlwind summer romance lays the foundation for a feverish three-year-long correspondence while Johnny is stationed in Germany. Thousands of letters later, the two marry upon his return in 1954. Within a year, a career blossoms and a family is started. By 1961, Johnny Cash is a household name, number one on the music charts, and perpetually on tour. Meanwhile, only two weeks postpartum, Vivian settles into their custom-built home in Casitas Springs, California with their four young daughters. Plagued by bobcats, rattlesnakes, all-hours visits from fans, and a growing resentment toward her husband's absence, Vivian is pushed to a near breaking point when she and her daughters are targeted by hate groups over her perceived race. In My Darling Vivian, we will meet the first Mrs. Cash as her daughters, Rosanne, Kathy, Cindy, and Tara, share with us first hand, for the first time, the entire story of love, isolation, fear, heartbreak, and survival.
Director's Bio: Matt Riddlehoover was born on July 26, 1985 in Bermuda. He is a director and producer, known for My Darling Vivian (2020), Strategy and Pursuit (2018) and Paternity Leave (2015).