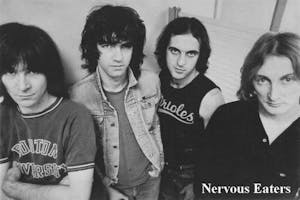 Nervous Eaters
The Redactions, Ditch Boys
$10.00 - $15.00
Currently being rescheduled
On Brown Paper Tickets
Fernando Pinto Presents: A May Day celebration of working class Punk Rock.
RocknRolls best kept secret has to be the Nervous Eaters and with their new release through Penniman Records, everybody in on it.
Coming out of the pre-punk Boston rock & roll scene, Nervous Eaters were as tight and professional as any working band around, with links to Willie Boom Boom Alexander and legendary blues harp player Tony Cagnina and regular gigs at The Rat. They roared through the punk era, opening for national and international acts, then toured on their own, and just kept going.
Some of this Boston bands amazing songs, released as singles in the mid-70's, have already seen the light of day on various punk comps, most notably Loretta and Just Head have been elevated to the status of nuggets and are counted as fave tracks amongst legions of fans of this genre. However, these songs are only the tip of the iceberg of an output full of talent and limitless rage.
Now, nearly 30 years on, Penniman is immensely proud to present Eaterville Vol. 1 destined to be THE RECORD to do true justice to the band and earn them the dues they richly deserve as one of the best ever R'n'R bands. This compilation brings together rare stuff recorded between 1973 and 1975!- from studio sessions and demos along with their official Rat singles and their fans favourite songs: Degenerate or You Smell Like Fish. Also included are demos like YouVe Heard These Chords Before or Planet Fever on which the singer/songwriter Steve Cataldo and co. place themselves on the crucial dividing line between the best Stones and the Stooges. This is the missing link that we've all been seeking and its now ready and waiting for your ears. Eaterville Vol.1 brings to light the strength of wild and hi-voltage sound bearing witness to a band too raw and too good to be successful.
In 180 gr vinyl and gatefold sleeve, the record includes a double page insert with liner notes notes, an interview with Steve Cataldo, as well as track by track notes provided by the great Steve himself. Also available on CD, with cardboard packaging and 24 page booklet with the same info.
The Redactions draw as much from 77 London as they do from American Hardcore 81. Two parts wailing guitar, one part thumping rhythm section, and enough melodies, hooks, and singalongs to fill out the Johnny Thunders cook book, minus the needles. The Redactions are loud, honest, and working class, the way punk rock should be.
New Haven's latest sweet-heat candy treat, the city's power-pop surprise. - The Deli Magazine
Ditch Boys are a garage punk band based in New Haven and made up of Mike Holler, Eric Mooney, Marco Carotenuto, and James Dorsey -- four boys from the Valley. First meeting in the halls of Shelton High, the boys were generally indifferent to each other until discovering their shared love of first-wave punk. Soon after, the band hit the ground running with jangling guitars, frenetic backbeats, and bar-room gang vocals, offering up a freewheeling slice of the American rock 'n' roll dream. Ditch Boys have released one EP to date -- "Seven Minutes With Ditch Boys." Spend seven minutes with these boys now.