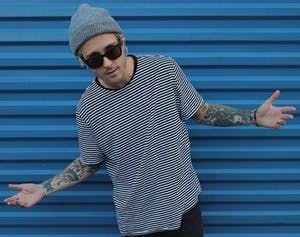 Nick Jordan
Brett Cameron, Relli
$0.00 - $5.00
FREE with RSVP
On Eventbrite
FREE with RSVP or $5 at the Door
Nick Jordan is an American rapper, artist, and musician originally from Tahlequah, OK, although he has spent most of his professional career residing in Los Angeles, CA. His musical career started at a young age playing drums for punk & rock bands, as well as filling in on drums for artists of all genres. His band Assemble The Skyline ended in 2012 after touring all over the US, selling over 30k albums out of backpacks and braving vans warped tour for 2 years. Nick spent the following years developing his lyricism & songwriting skills solo & as ½ of a hip hop/rap duo called Friends of the Friendless. After the release of one EP and a full length album, the duo went its separate ways and nick released his first official EP "Intergalactic" in April 2017 & has continued to release music regularly racking up numbers in streams & followers while performing shows around Los Angeles, SXSW and across the US at various showcases.
An artist who creates a mosaic of genres, textures, and stories, Brett Cameron has quickly become a fixture in the northeastern music scene and has established a presence across the world online as a must-hear alt pop act.
Independently attaining well over one million overall streams and tens of thousands of fans from multiple projects over the past decade, Brett Cameron is now seen as a dynamic and influential artist out of Connecticut/NYC.
Through appearances in top international outlets such as The Huffington Post, wave of good noise, AXS, iHeart Radio, PopDust, 2DOPEBOYZ, & AlexrainbirdMusic, opening festivals and concerts for artists such as Kodaline, Jon Bellion, The Black Keys, Teddy Geiger (i.e., Shawn Mendes), Jamie N Commons, Daryl Hall & John Oates, Drake Bell, The Rocket Summer, Never Shout Never, The Front Bottoms, Lydia, & Hailey Knox, and being part of a featured Firefly Music Festival showcase, Brett Cameron has proved his wide-ranging abilities both as a songwriter/producer and as an electric performer.
Is the culmination of artistic ambition and a passion for expression. He channels a raw emotion through his music - unique from his equals in his narrative depth - and marries bold, sophisticated sound with crisp, polished vocals. A trendsetter in its domain, Relli's dynamic fanbase is built on loyalty and connection, adding a touch of personality to an already flourishing brand.
His drive to assimilate with his community goes beyond that of other creative minds. In June of 2018, news of a close friend's diagnosis with AML Leukemia forced a new perspective on life upon the young artist. Among the months that followed, he lived vicariously through this experience, ultimately inspiring him to create the music for his self-released debut EP Time.
With a new music set to release in late summer 2019, Relli aims to tell the next chapter in his life through compassion all while turning fans into friends and having a damn good time along the way.