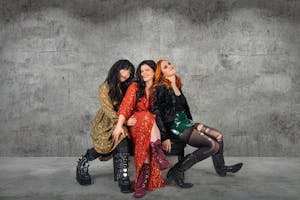 Fernando Pinto Presents: East Rock Concert Series at Cafe Nine
Nobody's Girl
Doc and Dave
$15.00 - $20.00
Canceled
On Brown Paper Tickets
Fernando Pinto Presents: East Rock Concert Series at Cafe Nine
Nobody's Girl (aka BettySoo, Rebecca Loebe, & Grace Pettis) at Cafe Nine. Tickets are $15 in advance, $20 day-of. Doors open at 7:30pm, the show begins at 8:30pm sharp. Special guests Doc & Dave open!
Nobody's Girl are touring in support of their forthcoming brand new (self titled & first full length) album, which is released worldwide July 10th - they'll have copies with them to sell tonight! .
The first single, "Kansas" will be released March 6th. Tonight should be a fun preview to their upcoming tour!
It began through a posting on NextDoor that brought "Doc and Dave" together last December. Although they are still in the early stages of creating music together, they have already brought a distinctive blend of guitar, fiddle, mandolin and vocal harmonies to a repertoire of songs drawn from their diverse musical backgrounds.
Doc - GUITAR AND VOCALS
Paul ("Doc") Bluestein picked up a guitar (a Sears Silvertone) for the first time when he was 16, starting more than fifty years of playIng, singing and writing songs. He had thoughts of becoming a musician and when he told his parents, they said "All we want is for you to be happy. You can be anything you want so long as it's a doctor or a lawyer." He eventually did become a doctor (no longer practicing) and a guitar player (still practicing) and played with friends and family over the years, moving through a variety of musical interests from folk, rock, jazz and blues.
Dave - VOCALS, MANDOLIN AND FIDDLE
Dave played violin (reluctantly) as a child which became his gateway drug to fiddle and mandolin. You might think a fiddle and mandolin player would be influenced heavily by country music and bluegrass, and you would be right. But Dave went far beyond that, playing songs that ranged from icons like Hank Williams, Willie Nelson and Bob Dylan, to Creedence Clearwater, The Band, the Eagles and jazz standards.