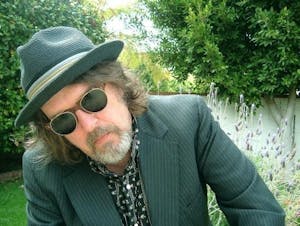 Songwriter Extraordinaire and founding member of The Nerves & The Plimsouls
Peter Case
Shawn Taylor
Peter Case and Shawn Talyor
Peter Case is a Grammy-nominated singer-songwriter and producer, a mighty fine guitarist and a well-reviewed published author and yet, he's most at home on the stage. For 25 years, Peter, his guitar and his songs have mesmerized audiences from coast to coast, whether holding down a festival crowd, warming up the place for luminaries like Jackson Browne and John Prine or headlining his own nightclub shows—of which he can claimed to have logged thousands.
As leader of the Plimsouls, and as a member of the groundbreaking punk era trio the Nerves and duo the Breakaways, Case earned his four stars a long time ago, while new generations continue to discover his unique amalgam of sound (2010 saw successful reisussues on all three bands). His songs have been featured on the hit TV series True Blood, Friday Night Lights and Parenthood.
Playing a blend of vintage rock 'n' roll, blues, traditional and contemporary folk, and soul, he remains an original modern troubadour. He's passionate about writing songs and connecting to real audiences, no matter the size. He regularly tours the US, Canada, the United Kingdom, and Europe, and his hardcore fans everywhere bring a deep connection to the songs and to the artist.
Wig! His latest recording for Yep Roc was his eleventh solo album. The Case Files, his twelfth, was a compilation of rare and unreleased studio and live recordings, and was released on Alive/Naturalsound Records.
Peter Case's songs have been recorded by: James McMurtey, Dave Alvin, Chris Smither, Alejandro Escovedo, Robert Earle Keen, Hayes Carll, The Flaming Groovies, The Goo Goo Dolls, John Prine, Maura O'Connell and many others.
Peter Case has performed live on stage with: John Prine, Richard Thompson, Mavis Staples, Tom Petty, R.E.M., Merle Haggard, T Bone Burnett, Gordon Lightfoot, Sir George Martin, Steve Earle, Los Lobos, John Hiatt, Bobby Womack, Jackson Brown, Bonnie Raitt, Dave Alvin, John Doe, Phil Lynott, Stan Ridgway, and many others.
Wandering roots troubadour Shawn Taylor, weaves songs from many colored threads of Americana. His fourth CD "Balance" wanders from Appalachian to island groves, gritty rock to sparse folk ballads, to finger-style time twisters and gut busting blues, in a testiment to his past decade of relentless dedication to the development of the 'wandering roots' sound, philosophy and body of work. '"His lyrics dabble in a wonderful gritty naturalism that's uncommon around here," wrote Dan Barry of the New Haven Advocate. He's won and/or placed in performing songwriter competitions up and down the east coast and awarded internationally for his short fiction. Along the way he's played some of America's most treasured listening rooms like the Blue Bird Café in Nashville, Tennessee and shared the stage with notables including Maria Muldaur, Peter Mulvey, Vance Gilbert and Sarah Potenza. He's been an oysterman, a woodworker, a father and husband, earned a Dergee with Honors in Creative Writing and has thru-hiked (end to end) the Appalachian Trail (GA-ME), the John Muir Trail (CA) and The Long Trail (VT). He's spent the past decade relentlessly performing (283 shows in 2018), travelling, exploring and developing his wandering roots sound, discography and life philosophy. His wife Amy and their two children (then 7 & 9) joined him on the road for the first time in 2017, for a six-week tour that touched down in eight states, included wild ponies and a flash flood, and ended with Taylor's appearance as a 2017 Falcon Ridge Folk Festival (NY) "Emerging artist." The family joined him again in 2018 for 6,5oo miles over 25 days. Plans are underway for a 2019 summer tour and the songs and the stories are flowing as the wandering roots body expands, and Taylor prepares for his next CD...