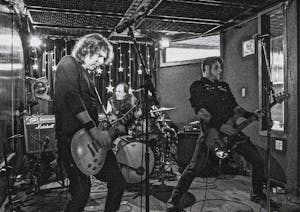 PleaseKillMe.com and Cygnus Radio Present:
The Live Ones, Lefty and The Chief
77 Punk show with The Live Ones and Lefty & The Chief.
Born in the poisoned gutters of NYC at the dawn of the millennium, the Live Ones are a ripping power trio playing wild garagey hard rock in the vein of such glue-sniffing forebears as Kiss, the Ramones, DMZ, and the New York Dolls. You might not have heard these songs before, but you won't forget 'em! Not for the faint of heart or the high of class! Catchy tunes, howling vocals, a big beat and a sweaty Live show! This is rock'n'roll!!!!
Lefty & The Chief (Larry Loud & Teo Baldwin)
" YES THE LAST NAME CAME FROM THE PBS SERIES ' AN AMERICAN FAMILY " "It was the first T V Reality show to be aired in the United States - Not sure on the date it was the early 70 's The Loud family ... Lot's of peer pressure - family dysfunction -the women's movement - Viet Nam and all the drugs you could find if you had money ,a motive and an I D stating that you were 18 years old for alcohol ..."
Till it was clear that David Bowie was a household name - Lou Reed had a "hit song - Iggy Pop was in search of a brand new deal -
Larry Loud, cofounder of - and axe grinder for The Cadavers (1976), and Last Supper. With the heart of a punk, when his hands hit the strings it often evokes Mick Ronson - Steve Jones- Johnny Ramone consequences - which makes those of us who dig punk and LOVE Ronson...extremely satisfied. Loud is a highly respected songwriter and a much longed for guitar guy - who quite frankly just ...KILLS IT.- Ramones inspired - Lou Reed's lyrics regurgitated - All the Good GLAM Dude's - All in all " A kid a real punk ! !Cross between Richard Hell And Donny Osmond " - Burt Kearns ( Founder Of HARD COPY ) with a " U can Do IT Too middle finger' out attitude " - Past show "s with Ramones / Husker Du / Ian Hunter / Mick Ronson / Crime and City Solution / Reducers / Circus of Power/ Raging Slab / The Odds / The Neighbor Hoods / Thrill Hammers / Corpse grinders w / Arthur Kane ETC ... Career fave demo's with David Hull for The Joe Perry Project