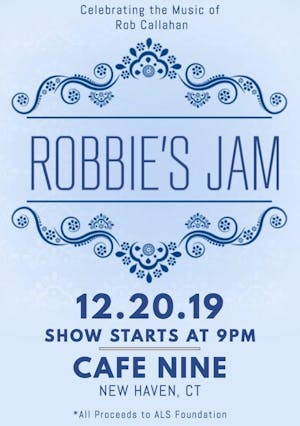 Robbies Jam
John Spignesi Band, Not Here, The Oliagahs, Shorebreak
A night to honor the memory of Rob Callahan, his music and to Benefit ALS research. $10 suggested donation.
We are pleased to announce that on December 20, we will be throwing a benefit show in honor of the late, great Rob Callahan.
All proceeds will go towards The ALS Association, a cause near and dear to many of our hearts. We are asking for a $10 suggested donation in lieu of a cover charge.
While the night will be mainly dedicated to Robbie's music, it is also our hope that those who are playing will perform some of their original music. If there anyone who was a supporter of the community, and original compositions, it was Robbie.
Please contact John Spignesi if you are interested in playing, helping, or anything of that nature. Let's make this night a big success in honor of a great musician, community supporter, and friend.
In late 2014, Guitarist John "Spigs" Spignesi formed JSB as a side project to his other full time band. Spigs' simply wanted to keep his "chops" up and play covers in his hometown of Branford, CT. JSB played their first show in February of 2015.
In 2017, everything changed when Spigs' full time band disbanded, leaving JSB as the priority. Since then, the band has steadily toured to build their following, as well as establishing their sound in the local jam scene.
The John Spignesi Band features a line-up of experienced musicians, who know how to dazzle and entertain their audience, not only by way of their impressive technical skills, but also due to the engaging, fun and positive nature of their tone.
Blurring the lines of Soul, Rock and Funk, the group shines on stage, as well as in the studio, constantly working at their craft. JSB also has the habit of recording all of their live shows, and making them available for free via the Live Music Archive. Always keen on playing without a setlist and letting the moment dictate the mood, The John Spignesi Band guarantees to take the audience on a wild ride at every show.
Not Here features saxophone, congas, percussion, guitars, bass and drums. The diverse backgrounds of the musicians come together in a unique alchemy.
Four-songwriters, bring a variety of styles to each performance. Exciting percussion and counter rhythms help drive the contagious repertoire. Our high energy Jams & 3 part harmonies make NoT Here a show to remeber!
Not Here mixes it up with jam, punk, blues, garage and psychedelia. One never knows what to expect from this creative band. Members project energy and audiences are quickly having a great time along with the musicians.
John DeFeo's tasty guitar and sax work, Nick Shea's manic solos and effects, driving percussion from Conga Girl , the pounding pulse of drums by Dangermon , Dr. Dank grooves on his bass rounding out the instrumental muscle of Not Here
Venues where the group has performed include The International Arts and Ideas Festival, Southern Connecticut State University, The Spirit of Waterbury Festival, The New Haven Green, Naugatuck River Revival Festival, Special Olympics Torch Run Benefit, as well as a number of clubs in Connecticut. They completed the successful Knot Hair Tour, Security is Tight Tour and last year's Heavy Headed Tour !
The Oliagahs
Evolving from open mic jams, Shorebreak is a band playing a mixture of covers and original music ranging from rock, blues, folk and reggae. We all come from different backgrounds, but we share a mutual love for the music which brings us together.