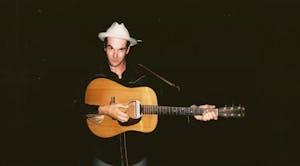 Nashville's Sage Coals brings an intimate country show to Cafe Nine
Pop Gems from the Elm City.
Sage is a singer, songwriter, guitar player who is currently based out of Nashville, TN. His new solo recordings are a combination of original rock & roll and modern country. The four song EP is called "Full Winged Angel" and it is backed by The Killer Bees from Honey House Records. The music is a fearless departure from his previous body of work with the psychobilly country surf band Huntinanny.
Nathaniel Hintz is a country and western artist from Watertown, Connecticut. Nathaniel incorporates a Rockabilly style of guitar playing, blending with a lively punk attitude. Putting a modern twist on the Sun Records sound of the 50s.