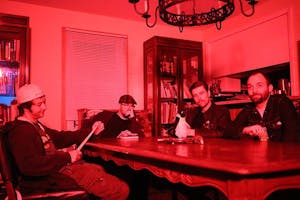 Shame Penguin have some new music. Let's celebrate with a show!!
Shame Penguin a four piece indy punk band out of New Haven Ct. A band truly formed from the New Haven Scene as 3 members meet while participating in the Rock Lottery. From cronning to emotional belting, clean arpeggios to distorted jazz chords, walking scales to fuzz driven bass choas, and a punk driven back beat that reads every room and taps into your heartbeat. This foursome delivers every note every song and every show. Welcome to the Rookery
Cardboard Dream House is an all-original 4-piece Indie, Alternitve, Punk band from Southern Connecticut. The band first surfaced in the summer of 2018, a collection of songs written by Bobby Roberts needed a band to pull it all together. Drummer Joe Covino joined Bobby Roberts'(guitar/vocals) musical universe, and together they lay the foundation for what would eventually be the band's debut EP (June 2019). Lydia Arachne (keyboardist) came in to help with gigs and plays with CDH for live gigs and studio. Soon after the release of the EP Drummer Covino left the band to pursue other things. Late summer 2019 Haneef Harris (bass guitar) and Eli Farland (drums) joined CDH. CDH is signed to independent Label Neuro Tronix Records.The music of CDH is an obscene and gritty blend of classic Alice Cooper and makeup-era Kiss meets Alan Parsons and Green Day.