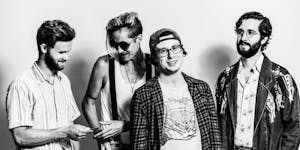 Sun Parade
Zebvlon, SAP
$0.00 - $5.00
Tickets At The Door
On Eventbrite
FREE with RSVP ($5 at the Door)
Sun Parade formed in Northampton, Massachusetts, where kids skinny dip in the Mill River and smoke on the tobacco farms on the flood plains. The music scene here is legendary. Even now, touring venues and festivals across the U.S., the Sun Parade lads are most satisfied when their music conjures a Route 9 basement show somewhere along the fold of the map that delivered Dinosaur Jr. and The Pixies — a cellar in which everyone is sweaty and dancing and in love or something like it, and by 3 a.m. the rhythm section is shaking the house and you can't tell the band from the crowd
Zebvlon is an up and coming indie/rock band from the University of Connecticut. Frontman, lead singer, and guitarist, Zeb Mrowka, began releasing solo music under the moniker in December of 2017. He added official band members Jake Viramontez, Collin Sitz, and Nick Zavaglia to Zebvlon in the summer of 2019. Zebvlon, although relatively new, has gained attention on Soundcloud, with multiple songs having over 15,000 streams. Their sound is inspired by Elvis Costello, Kero Kero Bonito, and the Smashing Pumpkins, among many others.
Zebvlon intertwines all aspects from their instruments and vocals to create a laid back, nostalgic sound that has been lost in popular music today. Zebvlon has already made a splash in the music scene, playing DIY spots across New England, including house shows at the University of Connecticut and the University of Massachusetts. Given their passion, drive, and love of music accompanied by their unique and refreshing sound, Zebvlon has a bright future in creating music that people will feel for years to come.
Newly-conceived three peice from New Haven, CT. This is dream pop with a twist of lyrical depth and darkness, featuring affected keys, jazzy drums and driving basslines.