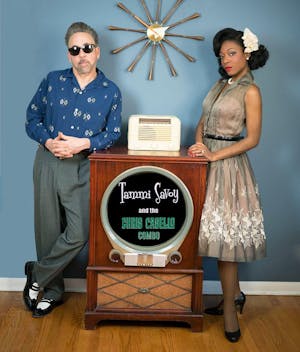 GO KAT GO! and Cygnus Radio
Tammi Savoy & The Chris Casello Combo, Shaun Young & Sean Mencher
$15.00
Tickets At The Door
GO KAT GO! brings  yet another "don't miss"  killer show to New Haven!
"Sangin" from her heart and soul is what classic soul and vintage R&B singing Miss Tammi Savoy loves to do. Born and raised in St. Paul, Minnesota, Miss Tammi Savoy now calls Chicago, Illinois home. Although she has been singing since the age of 3 in her church choir, Miss Tammi Savoy is quickly rising and making her mark in the music industry. Touring with several elite bands as well as providing vocals for various tribute artists including many highly acclaimed Elvis Tribute Artists, Ray Charles tribute acts, and Bobby Wilson, son of the legendary Jackie Wilson. She has also performed her very own tribute to Diana Ross and is absolutely honored to be the 2019 Ameripolitan Music Award Rockabilly Female of the Year.
Tammi's rich and resonant vocals are featured in "Tammi Savoy and The Chris Casello Combo". Tammi Savoy and Ameripolitan Award winning guitarist Chris Casello lay down Original 40's, 50s & 60s inspired Music, Early Roots Rhythm and Blues, Jump Blues, Rockabilly, Classic Country, Roots Jazz, Blues and Swing. It is Mid-Century Rockin' R&B. Pure Rhythm and Roll.
Shaun Young & Sean Mencher (High Noon)
If you're familiar with the Rockabilly genre, High Noon needs no introduction. But just in case… They were with Big Sandy and the Fly Rite Trio and the Dave and deke Combo, one of the bands that led the revival of American Rockabilly and among the first in the USA to play this music as if it came straight from the fifties.
For any true Rockabilly lovers, High Noon almost sounded too good to be true: Shaun Young's voice conjured the memories of the great Texas Rockabilly singers (among them a certain guy from Lubbock). Sean Mencher's bag of riffs seemed bottomless. Unlike too many Rockabilly guitar player who were happy to copy Hank Garland or Scotty Moore, Mencher developped his style by listening to the generation that came before like Merle Travis but also Oscar Moore or Charlie Christian. And there was Kevin Smith who showed everybody what "slapping a doghouse bass" really meant (and he was more than able to sing harmonies too.)