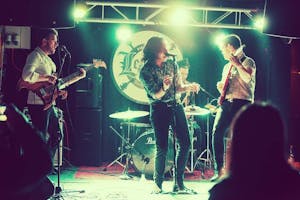 The Barren Gods, Guest Of Honor
All the way from Chile to Rock you New Haven!
The Barren Gods are a rock band formed in Santiago, Chile, in response to the absence of rock n roll in the current scene, and the strong influence of Arena Rock Bands of the 20th century. Composed by Ale Abdale, Jr. (vocals), J T García (Guitar), José Miguel Hoffer (Bass) and Pato (Drums); The band emerges basically from the stark need of a group, whose goal is to bring back the mythical guitars of Rock and Roll, mixed with a powerful voice that transits melodic terrains hard to forget. The Barren Gods has just released their first album "Anthem from the edge of the world", and for now they are promoting their live shows, where they promise nights full of effervescence and sensuality. Rock is back.
Guest of Honor writes and performs unquantized, unique, spirited and distorted rock music. The band was spawned in Hamden, CT in Fall 2018 by a trio of local musicians who met through previous musical projects and played together in the band Western Estates. In September, 2019 Guest of Honor emerged from the depths of their basement studio to release the single Party's All Over/Better Now? and play their first set of energetic live shows.