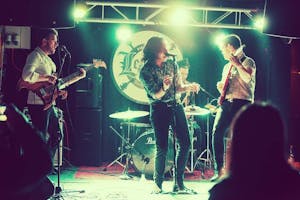 All the way from Chile to Rock you New Haven!
Established in 2015 and with one album under their belt, The Barren Gods are some kind of oddity in this day and age. The four members met through the small record shop owned by the lead singer's father, connected by their love of Rock & Roll and sheer ambition to emulate their heroes, they decided to record their self produced debut album in an old church in their hometown of Santiago, Chile. Comprised of Ale Abdale (Vocals), J.T. Garcia (Guitar), Jose Hofer (Bass) and Pato Orellana (Drums), they are now promoting "Anthems from the Edge of the World" on their first American Tour. Their goal: to restore your faith in music through an exciting live performance. As for now, you have been warned. Better catch them while they're still hot. Rock never really went away.
Guest of Honor writes and performs unquantized, unique, spirited and distorted rock music. The band was spawned in Hamden, CT in Fall 2018 by a trio of local musicians who met through previous musical projects and played together in the band Western Estates. In September, 2019 Guest of Honor emerged from the depths of their basement studio to release the single Party's All Over/Better Now? and play their first set of energetic live shows.