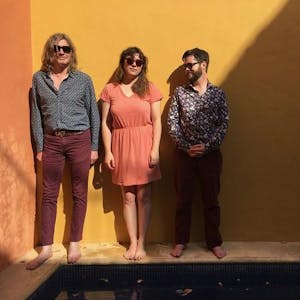 The Burning Hell & The Proud Flesh appearing at Cafe Nine in New Haven
In 2007, Mathias Kom collected some of his songs and started a band, named after a religious tract handed to him by a wide-eyed zealot in Toronto. Mathias subsequently invited all of his friends to join him in performing these songs about seagulls, shopping malls, and the similarities between love and hurricanes. Over the next ten years and almost as many albums, the lineup and sound of the Burning Hell have changed often, but the band has remained idiosyncratic and unclassifiable—much to the delight of those who love them. The constant has always remained Kom's singular outlook on the world: wise and naive, cynical and life-affirming, full of brilliant, unexpected narratives and a deeply felt generosity of spirit. The band's live performances underscore these themes: they exhibit a joy and camaraderie too infrequently seen on stage. Indeed, the essence of the band is inclusive and celebratory; whether live or on record, there's something for everyone. As Tom Robinson of BBC Introducing said about The Burning Hell, "even Jesus is going to enjoy this, once he finally gets here."
"Over the last several years The Proud Flesh's unique Americana sound has been impressing audiences throughout the east coast and New England. They've been described by NHMusic.org as "...so organic it's almost tangible, just waiting to be plucked from the night air and placed in your hand"
The Proud Flesh's debut record Tiny Picture Frames received much positive attention from independent press. The band also have a three song EP of American tunes entitled "The Depression Sessions." The Proud Flesh have supported Brown Bird, Spirit Family Reunion, Frontier Ruckus, Two Gallants, O Death, River City Extension, Kathryn Calder, Adam Arcuragi, Hop Along, Laura Stevenson and the Cans."
The Proud Flesh released their sophomore effort "HOME" on 4/23/2013.