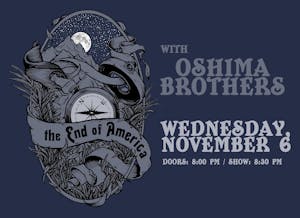 The End of America & Oshima Brothers appearing at Cafe Nine in New Haven
The End of America is a band of friends who met on the road and found a kindred spirit in one another. The Philadelphia/NYC trio credit their name to Kerouac's On The Road -- relating to travelling "across the groaning continent" in search of inspiration. The sound is centered on their voices, weaving 3 distinct leads into captivating harmonies over a solid foundation of folk, rock, and americana. Fans often draw comparison to CSNY, The Avett Brothers and Dawes.
James Downes, Trevor Leonard and Brendon Thomas were all frontmen of other projects. In 2010 they joined forces to record their live debut EP, Steep Bay. Since then they have released two EPs and one LP, writing songs that are rich with "soul-striking harmonies and folk-rock melodies." -WXPN, The Key
The band made their debut at the 2016 Philadelphia Folk Festival and were voted "Favorite New Artist" of the festival. That same year, Bernie Sanders licensed TEOA's song Empty Sea for use in one of his campaign videos during his Presidential bid. In 2017 the band won the Emerging Artist Showcase at Falcon Ridge Folk Fest, returning in 2018 to perform as FRFF's "Most Wanted" band.
The End of America is known for having a powerful live show that highlights their dynamic songwriting, harmonies and playful stage banter. They have performed at festivals across the east coast and midwest and have shared stages with the likes of Beck, David Bromberg, Larry Campbell, Mandolin Orange, Wild Child, The Ghost of Paul Revere, and Rocky Votolato.
In 2013, Beck invited TEOA to play at his Song Reader album release show in Los Angeles after hearing the trio's rendition of Please Leave A Light On When You Go. Their performance was broadcast live on KCRW and earned praise from Spin and Filter.
"They sound great and they seem to be loving doing it." -David Crosby
BOOK IT
Oshima Brothers' magnetic sibling sound and contagious joy result from a lifetime of making music together. Raised in a musical family in rural Maine, the brothers have honed a harmony-rich blend of contemporary folk and acoustic pop. On stage, Sean and Jamie create a full and complex sound with dynamic vocals, electric and acoustic guitars, octave bass, loops, and percussion.
Oshima Brothers currently have two albums to their credit, producing their self-titled debut in 2016, followed by the five-track EP "Under The Same Stars" in 2019. The brothers write, record and produce all of their music and videos mostly in their home studio in Maine. The latest video collection includes the five music videos that accompany each track of "Under The Same Stars." NPR's "Heavy Rotation" playlist recently featured their song "Ellie" as its lead track. Within a month of its release, "Under The Same Stars" has garnered hundreds of thousands of streams from Spotify, Apple Music and Amazon. The brothers live together in Maine but spend most of their time on the road performing, writing, videoing, and dancing.