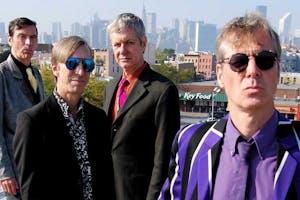 Can you feel The American Beat?
Forty years ago in Queens, New York, KEITH STRENG and his buddy Marek Pakulski discovered some guitars in a basement of a house they were renting. They didn't know how to tune strings or finger a chord, but they dug Rock & Roll and R&B, which was hard to find in the mid-1970s pabulum on Top 40 and FM radio. They picked up those guitars, found some cheap amps, and started banging out noise. By '77, local drummer Lenny Calderon was on board as the steady drummer. Read Less
One day PETER ZAREMBA, an art student friend with long bangs, a harmonica, and a manic vision, dropped by the house, grabbed a mic, and named the band THE FLESHTONES. They rehearsed by throwing locally legendary parties in the basement of that house, dosed with fuzz guitar and trash cans full of their signature cocktail, the Blue Whale, inaugurating a bacchanal that just won't end. Manically covering obscure songs and offering their own nervy originals, they debuted at CBGB in May of 1976.
Zaremba remembers, "We were very wound up and blasted out our handful of songs at a ridiculously fast tempo. Still, people liked us and some even danced along, an unusual event at super-cool CBGB's. We were invited back for another audition. Finally, we were a real band." Laughs Streng, "We were horrible at CBGB's! But we still passed. Hilly Kristal said to us, 'You guys aren't really that good. But there's something there'."
Indeed there was. In addition to gigs at that fabled club and at Max's Kansas City, the Fleshtones found a home at the rock/performance-art home at Club 57 on St. Mark's Place, and in 1978 signed with Marty Thau's Red Star Records and recorded a full-length album. The next year they released their debut single, the classic "American Beat," and with filmmaker M. Henry Jones created an innovative and influential performance-animation video composed of hand-painted cutouts. They signed with I.R.S. Records in 1980, adding BILL MILHIZER on drums and releasing the genre-defining garage rock classics Roman Gods and Hexbreaker, with Gordon Spaeth (RIP) playing sax, harmonica, organ, and the Juvenile Delinquent with a Heart of Gold.
In the mid- and late-1980s, Zaremba kept busy hosting MTV's Cutting Edge. Throughout that decade and the 1990s, the Fleshtones released plenty of albums and singles, toured the U.S. and Europe regularly in front of packed clubs and large festivals, and anointed nonbelievers worldwide in bar-treading, conga-line-snaking Super Rock—a greasy ball of sonic and cultural influences ranging in feel from R&B, Disco, and Lost In Space to Garage, Frat Rock, and Mexican horror flicks.
Following Pakulski's departure in 1986, the band entertained a few bass players, including Robert Warren (RuPaul's bassist in Wee Wee Pole), Andy Shernoff (The Dictators), and Fred Smith (Television). In 1990, KEN FOX, late from Jason and The Scorchers, joined the goofy mayhem for good, contributing pop songs, high leg kicks, and charm at the merch table, battening down the hatches on a muscular, road-strengthened, party-hopping outfit who play with the same energy, abandon, and spontaneity in front of ten people as they do in front of hundreds.
The Fleshtones are the only band to debut at CBGB in 1976 that hasn't experienced an inactive year. They have, in one way or another, inspired countless other bands over the decades, including R.E.M., Hoodoo Gurus, and The Dream Syndicate, and their showmanship and musical influence is palpable in many current bands throughout North America, Europe, and Scandinavia. The Fleshtones have survived Punk Rock, New Wave, No Wave, Neo Garage, Post-Punk, Grunge, and more Neo Garage, never succumbing to trendiness, scornful laughter, liquidated record labels, or non-alcoholic beer. They were the first band to play at Irving Plaza and Danceteria in Manhattan as well as Maxwell's in Hoboken, New Jersey, and the first to be booked at the original 9:30 Club in Washington D.C.. They were one of the last bands to play Windows On The World on top of the World Trade Center. In between, they opened for James Brown and Chuck Berry, backed acclaimed English actor Ian McKellen as he recited a sonnet on Andy Warhol's Fifteen Minutes, and anchored the infamous Pyramid Club in the East Village while helping inaugurate the legendary Wigstock drag queen festival.
MUCK AND THE MIRES, Boston's International ambassadors of garage rock 'n' roll, have been described as a blend of the 1964 Beatles and the 1977 Ramones. Their songs are reminiscent of the 1960's British Invasion, all two minutes long and ALL POTENTIAL HITS, while their live show is a high energy blast of fast-paced, post-punk gritty garage rock and roll. They have built a worldwide following through relentless touring, radio and satellite airplay and a string of recordings, produced by Kim Fowley & Jim Diamond, considered by many to be cult classics.
Formed in 2001, MUCK AND THE MIRES are pehaps the first group to ever have a "Best Of" collection released before ever playing a note together; "All Mucked Up -The Best of Muck and the Mires". In reality, these raw recordings were home demos created by Muck (Evan Shore formerly of The Queers and The Voodoo Dolls). Originally passed off as the lost sessions of an unknown sixties garage band, In 2001, the demos were issued on CD in Canada on AMP RECORDS and subsequently on vinyl by SOUNDFLAT RECORDS of Germany. Following the immediate success of the album, Muck assembled the real-life Muck and the Mires, who's current lineup still features drummer JESSIE BEST, long-time bassist JOHN QUINCY MIRE, and the recent return of founding lead guitarist Pedro Mire.
In 2004, the band gained worldwide recognition when they were featured on MTV as the winners of Little Steven Van Zandt's (E-Street band/Underground Garage) national battle of the garage bands contest. The group appeared that summer at Little Steven's festival in NY alongside Bo Diddley, The Stooges and The NY Dolls. Later that same year, they toured Europe for several weeks and quickly built a large following both home and abroad thanks to strong airplay and worldwide live appearances.
In 2006, DIONYSUS RECORDS (Burbank, California) and SOUNDFLAT RECORDS jointly released the album "1-2-3-4" which quickly climbed up college and satellite radio charts. The song "Caught In A Lie" was subsequently featured in the History Channel's film "Vietnam in HD" and the record received a four-star rating from England's prestigious Uncut Magazine, prompting their first UK tour. In Liverpool, they headlined the famous Cavern Club and caught the attention of ex-Beatles manager Allan Williams. It should be noted that, despite their offer to employee him, "The man who gave away the Beatles" also turned down Muck and the Mires. Following a slew of dates across the US, the group embarked on a seven-country European Tour which included arena-sized dates with surviving members of The MC5.
Rock legend KIM FOWLEY (the Runaways/Kiss) stepped in to produce the group's 2009 release "Hypnotic". Critically acclaimed, this was their first full-length effort for London's Dirty Water Records who had issued an EP (Doreen) and a single ("I'm Down With That") the year prior. While on tour in England, the group was surprised to learn that their single had introduced the popular American phrase "I'm Down With That" to Londoners. They spent the year promoting Hypnotic with high-profile shows such as their appearance with the NY Dolls at South By Southwest (SXSW) in Austin, TX and at the Bukta fest in Norway with Ray Davies (The Kinks), Roky Erickson and Kaiser Chiefs.
MUCK AND THE MIRES headed to Detroit to record the follow up album with acclaimed White Stripes producer JIM DIAMOND. 2011's "A Cellarful of Muck" proved to be the group's biggest selling album to date, scoring record of the month on Spanish National Radio. in 2012, the group returned to Europe, while back home, they once again proved their wide appeal playing the Life Is Good Festival with contemporary artists including Dave Mathews.
MUCK AND THE MIRES recently returned to the studio with both Kim Fowley and Jim Diamond, and also served as Fowley's back up band when he perfromed his outrageous live show in Hollywood.2013/2014 European tour dates are being booked now in suppost of this latest disc DIAL M FOR MUCK!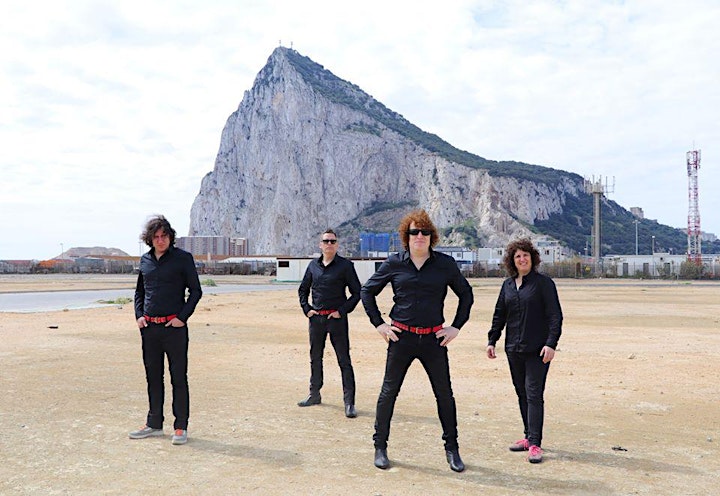 Group from New York City, formed in the late 1970s. Often tagged as garage rock revivalists, the Fleshtones mix the fuzz guitar and Farfisa organ sounds of that genre with rockabilly, '50s and '60s R&B, and surf into a potent retro stew the group likes to call "super rock." The group formed in 1976 in Queens with vocalist/keyboardist Peter Zaremba, guitarist Keith Streng, bassist Jan Marek Pakulski, and drummer Bill Milhizer and aimed to return rock & roll to the simplicity and unself-consciousness of the '50s and early '60s. (The group was often joined on-stage and in the studio by sax player Gordon Spaeth, who passed on in 2005.) The group fit nicely into New York's punk and new wave scene, and an early single, "American Beat," attracted the attention of independent label Red Star and, in time, I.R.S. The group's debut EP, Up-Front, was released in 1980 and was followed by their first full-length album, Roman Gods, and Blast Off!, an unreleased studio album recorded for Red Star in 1978. 1983 produced Hexbreaker, widely regarded as the Fleshtones' finest album. The band continued to record through the '80s and released Powerstance in 1992 and Beautiful Light in 1994. (Powerstance also marked the debut of new Fleshtones bassist Ken Fox, who replaced Pakulski in the lineup and has been with the group ever since.) While the group's popularity dipped under the radar in the last half of the '90s, in 2003 the group bounded back when they were signed to the potent indie label Yep Roc Records and released one of their best albums, Do You Swing? An equally solid follow-up, Beachhead, was issued in 2005 and was produced in part by Detroit garage rock kingpin Jim Diamond. Fleshtones side projects include Keith Streng's band Full Time Men, which featured R.E.M. guitarist Peter Buck, and Peter Zaremba's Love Delegation. In 2008, more than 30 years after the group formed, they released Take a Good Look, proving their ability to be just as raucous as they were in the good ol' days.